Cosmetic Foot Surgery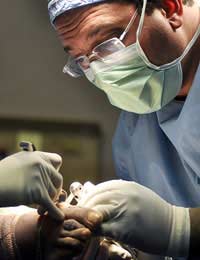 Deformities like bunions and hammertoes are the main reason why surgery procedures on the feet are undertaken. These deformities can cause a great deal of discomfort as well as create further joint pain and corns when the feet are squeezed into shoes that are no longer comfortable to wear. A corrective procedure is undertaken to provide better comfort and relief and also improve the general appearance of the feet.
Common Corrective Procedures
The most common foot deformities are bunions, hammertoes and overlong toes. All these can be corrected by cosmetic foot surgery procedures. Ingrown toenails can also be easily corrected with a nail surgery procedure. Morton's Neuroma – swelling of the nerve in the foot – can be treated using cortisone injections or with neurectomy, which is a surgical procedure that removes the diseased portion of the nerves.
Surgical Procedures
A surgical procedure to shorten overlong toes takes about 15 minutes per toe under local anaesthesia, as an outpatient. During this time removal of a portion of the toe's small joints takes place and bone pins or screws are then inserted. The healing period for this kind of surgery is about three to six months, although new toe alignment is assessed and evaluated directly after surgery.
Arthroplasty
The construction of a new moveable joint is known as arthroplasty. This procedure is used on the metatarso-phalangeal joints in the foot and is part of the treatment for hammertoes and mallet toe deformity. A small piece of the bone is removed from one side of the toe joint and repaired by interposing the capsule and tendon into the joint. This stabilises the toe and improves appearance, although there may be swelling for a few months.
Recovery Period
After most forms of foot surgery the patient will be able to walk with the use of crutches for at least a week. The wearing of special surgical shoes is recommended, as too is the changing of dressings after seven days. Suture removal generally takes place two weeks post surgery.
Pain relief medication is prescribed for the first few days after surgery. To ease further discomfort ice packs can be applied and as much elevation of the feet as possible is also a good idea.
Gradual walking, a few days after surgery, will help mobility and flexibility, but comfortable, roomy trainers should be worn for the first few weeks. Any scarring can be treated with scar-care products but this will be discussed with the surgeon after surgery.
Risks and Complications
As with all cosmetic surgery procedures there is always an element of potential risk. When researching surgery options you will be provided with information regarding all types of risks and possible complications so that you are able to make an informed decision about surgery.
The most common complications are the risk of infection of the soft tissues, which is treatable with antibiotics; swellings that take longer than expected to reduce; and severe pain. It is rare, however, for a patient to develop Complex Regional Pain Syndrome – which requires treatment at a specialist pain clinic.
You might also like...
I have extremely sweaty feet and it seems to be getting worse. I have perspirex, but it doesnt help. Please help, I don't know what to do anymore....
Ally
- 15-Oct-15 @ 4:39 PM