Pedicures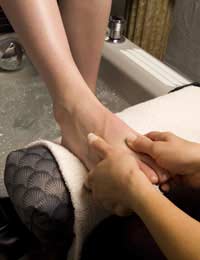 Not only serving as a pampering session for your feet and overall well-being, a good pedicure can help to alleviate some of the more common problems of the foot that can cause pain or discomfort.
How can a Pedicure Help?
A pedicure can be useful in many ways; by removing hard skin, keeping nails healthy, maintaining overall hygiene and by softening the skin, many minor ailments and complaints of the feet can be avoided.
In-grown toenails, corns and calluses can all be prevented by keeping feet in good overall health, meaning discomfort is lowered, mobility remains optimal and days absent from work are lessened. If feet are in good health and walking is comfortable, people are more likely to participate in activities and exercise, and can even improve posture and balance.
Good nail care can help to prevent infections from developing or help in the treatment of fungal infections of the foot and nail.
What Exactly Happens?
To begin with the person carrying out the pedicure will normally require you to bathe feet in warm water, often a foot spa in order to not only cleanse the feet but to soften the skin too. The water may have added products such as aromatherapy oils that enhance the relaxing experience and help to eliminate built up grime or treat problems like hard skin more specifically.
Next, feet will be massaged using creams, gels or oils, sometimes with an additional exfoliating product to help remove dead skin cells from the feet, toes and nail beds.Some pedicurists are trained in reflexology and will aim to treat problems in this way. The occasional use of wraps and other materials may be used if this is requested or required.Many therapists advocate the use of hot stones whilst massaging the feet, which helps to rejuvenate the tissues and improve circulation of blood to the area.
Once the massage stage is complete, problematic areas such as corns, calluses and hard skin will be treated using devices or products designed especially for these. Nails will be treated by trimming and reshaping and cuticles pushed back.If a nail polish is required a variety of forms are available from a natural French polish to more extravagant colours and designs.
Who Gives Pedicures?
Anyone can learn to be a pedicurist and can set up a business as such without training. For your own safety and benefit, it is recommended that you visit a reputable person, preferably at a salon or someone who can visit you at home if needed. Most pedicurists are trained beauty therapists and have been taught the importance of correct nail care and how to treat corns and calluses safely.
If you have any existing medical conditions, please do tell the therapist before any essential oils are used as sometimes these can exacerbate symptoms or interfere with certain medications. It is also important to tell the therapist if you have vascular disease or diabetes as extra care will be taken to avoid trauma to the nail or tissues that can quickly develop into infections or cause long term problems to the feet.
Pedicures can give feet a new lease of life and should be enjoyed whenever needed. They can help treat minor problems of the feet or help to prevent more serious ones occurring.
You might also like...