How to Give a Therapeutic Foot Massage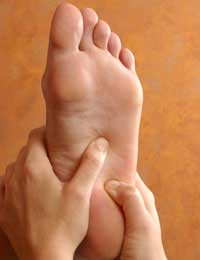 A relaxing foot massage is not only a pleasurable treat, but also a therapeutic remedy for tired, over-worked feet. Our feet are under constant pressure and taking the time to remove the build up of stress and tension, with a foot massage, is a beneficial treat.
Why is a Therapeutic Foot Massage Beneficial?
Whether we are at work or at play our feet are constantly on the go. This constant activity leaves little room for rest time, which after a while will result in tired, aching feet. A good, basic foot massage removes all tension and stress from your body, as gentle pressure is applied to the soles of the feet.
Preparation
Cleansing the feet, before you begin a therapeutic foot massage, will not only ensure feet are free from sweat and dirt but that they also feel refreshed, after a day of wearing shoes. Soaking the feet in soothing warm water, that has Epsom Salts added, is a good way of relaxing the feet. If there is any dry, hard or flaky skin soaking the feet for at least 10 minutes is also recommended. After thoroughly drying the feet – paying particular attention to between the toes – you are ready to begin the therapeutic massage.
Massage Techniques
Rub some massage oil between the palms of your hands and then oil the feet as you gently rub the skin all over. You can use an unfragranced base oil, or one that is fragranced with essential oils.
Supporting the heel of the foot, begin the massage at the toes and work your way down to the heel. Working on one foot at a time, use firm but gentle motions to massage the toes and muscles around the toes. Gently pulling on the toes also releases tension in the body. Gradually work your way down the foot, using your thumbs to apply pressure to the sole. Circular motions work best in this area, and a firm pressure will help improve circulation. Firm strokes will also ease out any tension and build-up of stress in the feet.
Once you have reached the heel you can gently squeeze the flesh of the heel to release further tension. Continue working back and forth over the entire foot to ensure deep relaxation. You can use deep circular motions or apply pressure using the heel of your palm. Encouraging the individual, who's foot you are massaging, to express a massage preference will also enable you to improve your massaging techniques.
Swap feet and repeat actions.
Other Considerations
When giving a relaxing therapeutic foot massage you can also use a variety of different products to enhance the experience. There is a wide range of oils, creams and lotions available so choosing a selection of these is a good idea.
When working with massage oils however, always check you are using the correct oil. For instance, this means checking that the individual you will be massaging does not have a nut allergy – if you plan to use an almond-based oil. A good quality, unfragranced base oil is an excellent all-round choice for all types of massage.
You might also like...