How to Give a Home Pedicure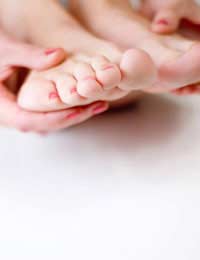 A pedicure is a pampering treat that many individuals have yet to experience. Although having a salon pedicure is considered to be a luxurious treat, looking after and beautifying your feet is a simple process we can all do for ourselves at home.
Why Do we Need a Pedicure?
Wearing shoes every day can sometimes result in our feet developing ugly corns, calluses and blisters. In the summertime we may also have cracked heels, from wearing open-backed shoes and sandals. Maintaining healthy and happy feet however, simply requires lavishing a little bit of loving care and attention on our weary feet from time to time.
What Do You Need?
Besides a bowl of warm water, that has a fragranced foot soak or Epsom Salts added, you will require a few other essentials. These include a pumice stone – to remove any hard, dry or flaky skin from your feet – nail varnish remover and cotton wool, a good quality moisturiser, a nail cutter, a nail file, a nail brush, cuticle pusher and cuticle cream, and nail polish products, if desired.
Pedicure Steps
If toe nails are dirty then first clean them using the nail brush, and then use nail varnish remover and cotton wool to clean the nails of polish. Trim the nails with the nail cutter and file so that the edges are smooth. Now place your feet in the foot soak bath and allow your feet to relax for 10 minutes. If you have particularly hard edges on your heels allowing your feet to soak for 20 minutes will enable the outer layer of skin to soften considerably. To remove all the hard, dead skin cells, rub the skin with the pumice stone.
Towel dry your feet, ensuring you dry thoroughly between the toes. Apply cuticle cream to your toe nails and using the cuticle pusher gently push back the cuticles of each toe nail. Rinse off your feet in a fresh bowl of clean lukewarm water, and repeat the drying process. Moisturise your feet, paying particular attention to any areas that are prone to dryness or flaking. You can use relaxing massage strokes as you apply the cream.
How to Make Feet Look Pretty
If you are using nail varnish allow enough time for the skin on your feet to absorb the moisturising cream before you begin applying nail varnish products. Once ready carefully apply a nail basecoat. Using a basecoat will stop your toe nails from becoming discoloured, and will also ensure the nail varnish becomes more hard-wearing and requires fewer touch-ups.
Once the basecoat is dry, apply two layers of your preferred nail varnish. Allow sufficient drying time between each coat, and then add a thin final layer of topcoat.
After applying nail varnish always allow a few hours before wearing closed-toe shoes. To keep your nail varnish looking the best it can, applying a second layer of topcoat, a few days later, will help stop the nail varnish from chipping.
How to Maintain Healthy Feet.
Getting into the habit of giving your feet a regular home pedicure will ensure your feet stay in great shape. In between pedicures however, ensuring your feet are clean and well moisturised, on a daily basis, will help your feet stay happy.
You might also like...