Establishing a Good Foot Care Routine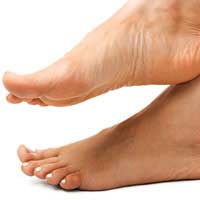 Having a good foot care routine should be a staple part of everyday life. Not only preventing infections, the development of ailments and avoiding foot odours, a good foot care routine can actually help with relaxation and encouraging a 'feel good factor' about yourself.
Preventing Foot Infections
Hygiene is the most important issue surrounding infection prevention. This not only includes cleansing and appropriate product selection, but also incorporates drying techniques and utilisation of materials. If you tend to suffer from sweaty feet, are on your feet all day, or are required to wear the same footwear everyday, it is advised that a mild anti-bacterial soap is used to clean the feet. This should be done at least once daily and the water used should not be too hot as this encourages dry skin to occur.
Thorough washing between the toes and around the nails and nail beds should be enough to remove any built up grime and sweat residues. If needed, a pumice stone can be used at this stage to remove any dry skin, along with a nail brush to ensure the areas around and under the nail are cleaned adequately.
Athlete's FootIf you suffer from athlete's foot, it is essential that the bathing or cleansing area is cleaned and rinsed after use, and that flannels and towels are single use only and not shared among the other household members. Sharing these items can lead to cross infection and spread the condition to others.
Avoiding Minor Foot Complaints
Minor ailments include corns, calluses and in-growing toenails, which can all be minimised or avoided by employing some basic measures into your foot care routine.Corns and calluses can be avoided in the first instance by ensuring that the correct sized footwear is chosen and that socks are not too tight. In the event that a corn or callus does develop, it should be treated as soon as it is noticed. Regular bathing in soft water and the use of moisturisers and hard skin removing devices are often enough to keep calluses and corns at bay. If they do develop and become increasingly painful, a chiropodist will be able to effectively treat and advise on corn and callus treatments and prevention.
Ingrowing Toenails
In-growing toenails are a common problem, but are often easily avoided. When trimming toenails always use an appropriate pair of scissors or nail clippers and cut the nail straight, in one single action, across the top of the nail. Sharp edges can be filed away, do not try and shape the nail with the scissors or clippers as this can encourage the nail to become in-grown. Nails are easiest trimmed when they have been soaked as they are softer and will cut more easily.
Avoiding Foot Odour
If you are susceptible to foot odour, feet should be bathed at least once a day, often twice is better, using an anti-bacterial soap. Foot powders that aim to reduce odours can be useful as the powder helps to keep them dry, preventing sweat to build-up. Cotton socks and going bare foot when possible will also prevent the feet from becoming too hot and sweating excessively.
Rest and Relaxation
For those who simply want to relax, the use of massage oils, creams and lotions coupled with some basic reflexology techniques can help with overall relaxation. As part of our everyday routine, foot care can help reduce stress, which can help reduce the likelihood of other medical illnesses developing. Our feet are subjected to many years of hard work and enable to carry out even the most basic of everyday tasks and movements. We should look after our feet to the best of our ability so they can continue to serve us well for many years to come.
You might also like...