Baby Foot Casting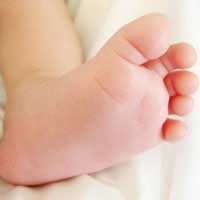 Casting an impression of an infant's feet is a popular method of commemorating the special birth event. A cast can be done professionally in a studio or at home using a casting kit. The keepsake casting kit will contain a step-by-step guide and enough alginate, or impression powder, to cast a number of impressions.
Creating the Moulding Mixture
If purchasing a ready-made casting kit all the ingredients and directions will be included in the box. To get the hang of the process it is worth mixing a small amount of the alginate, or impression powder, with water. This will allow you to get accustomed to the texture of the product and how to work with it. The alginate is non-toxic and biodegradeable and similar to the impression powder used in common dentistry. Once you are happy with the consistency of the moulding mixture you are ready to begin casting your baby's foot.
How to Cast a Keepsake
Working quite quickly gently squeeze the moulding mixture around your baby's foot. It only takes a few minutes for the mixture to set so your child doesn't have to keep still for long. Once set the mould can be pulled away from the foot. If your baby's skin is dry lightly moisturise the skin, this will help the removal of the cast.
How to Set the Mould
Add the casting powder to the required amount of water and in a steady flow pour directly into the mould. Always make sure the powder has dissolved completely before pouring.
Revealing Your Cast
A cast will generally take a few hours to set hard so a little patience is required. Most home casting kits provide sufficient casting materials to create a number of impressions of your baby's feet so you can experiment with the casting process. When completely set gently peel away the mould. You will be left with a lifesize plaster cast of your baby's foot.
How to Handle Breakages
If you accidentally damage the plaster cast, as you peel away the mould, keep the broken off bits and ensure they dry out fully. Using a gel-based glue you will be able to stick the broken piece/toe back on before covering with a little fresh plaster mix to ensure the cast looks like new.
Finishing the Cast
If you wish to display your baby's foot cast you will want to level off the base with a knife. Sandpaper rubbed along the back of the cast is also effective. Doing this means you will need to allow additional time for the cast to dry out before painting. Setting the cast aside for a few days will guarantee it is in the best condition for painting and mounting in a box frame.
Unique Personal Sculpture
For a more unusual keepsake you may want to consider casting your baby's feet in glass, bronze, silver or aluminium resin. These specialist materials however, require professional casting so finding a sculptor or specialist artist is recommended. As a guideline a bronze resin cast of your baby's foot will cost around £200.
FOOT CARE EXPERT IS FOR SALE.
This website is for sale [more info].
You might also like...