I have Sharp Pains in My Foot, What could it be?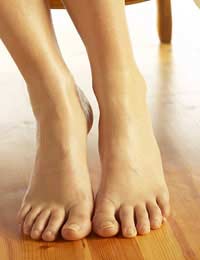 Q.
I have been having sharp pains in my foot for a week now. The pain is only present when putting pressure on the ball of my foot whilst walking. What could this be?
(Mr Michael Bolton, 19 November 2008)

A.
From your brief description of your symptoms, the most obvious answer is that you are suffering from a condition called metatarsalgia. This literally means inflammation of the bones and joints that make up the area between the arch of the foot and the base of the toes.
It is fairly common to experience pain in this area and it can be caused by different things.For women wearing high heels is the normal cause whilst for men, wearing shoes that are too tight can force the long bones of the foot together along with compressing the ball of the foot which is commonly the widest part of the foot. This can harm the nerves and blood vessels in the region and result in pain, again more so if tight footwear is worn for long periods.
In most cases a simply change of foot wear can solve the problem. If you must wear specific foot wear for work such as steel toe-capped shoes or boots or other kinds of shoes, get your feet professionally measured so the right size can be ordered, and make sure you are not wearing shoes that are too narrow for your foot.
If you think your shoes may be too tight, try wearing a more comfortable shoe that accommodates your foot more comfortably; lace-ups are the best type of shoe as the width can be adjusted to fit more comfortably. If you need to wear shoes for very long periods, make sure they are cushioned well. The use of additional gel pads or heel cushions may make them more comfortable.
If your symptoms persist there are a selection of medicated foot gels that can help ease the symptoms. These often include ingredients called anti-inflammatories that aim to reduce the swelling and tenderness in the joints and tissues.A nice foot rub or soak in warm water will help the tissues to relax and encourage blood and oxygen to the lower foot which will help to improve the discomfort.
If your symptoms persist please see your GP who may refer you to a specialist who can examine your foot and assess your condition, treating as necessary.
You might also like...
Recently I have been experiencing a stabbing pain in my left foot,its on the bottom at the back. When I turn my foot inwards, it feels like I'm being stabbed, what could it be?
Martin
- 13-Feb-16 @ 3:29 PM