Supportive Feet Products for Senior Citizens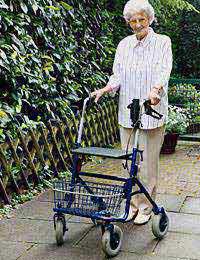 When it comes to maintaining footcare health for senior citizens it is important to remember that foot problems and mobility may require special attention and support. Understanding that pain and movement restrictions can also signify other health-related problems and concerns may help ensure that the correct type of supportive foot product is issued or used.
How Our Feet Change
Senior citizens may be more prone to developing diabetes, arthritis and circulatory disease that can all impact on mobility in some way. As we get older our feet widen and flatten and this can greatly affect sensitivity and alter natural movement. Foot problems can also impair balance and foot function and can therefore restrict flexibility and mobility, particularly in the elderly.
Why Use Supportive Products?
There is a wide range of supportive foot products currently available for senior citizens. These footcare products provide the correct form of support for foot problems and can help restore balance and relieve foot pain. Other foot conditions may also be improved.
Improper fit can make an established foot problem worse so it is important to ensure that supportive foot products are selected correctly and fitted professionally. By ensuring feet remain healthy individuals will be more likely to maintain an active lifestyle.
Available Footcare Products
There are many forms of specialist footcare products on the market. There are diabetic appropriate shoes, insoles and socks that can be worn to help prevent amputation. Off-the-shelf orthoses, or insoles, that address problems with common foot ailments are widely available, although custom-made orthosis may provide a more suitable solution.
Minor footcare problems can be aided by the use of pads, socks and other footwear products, and in some cases the stretching of shoes may also be recommended. Using supportive products like these may ease back pain and plantar fasciitis as well as improve body alignment and gait. Memory-foam insoles also provide yet another supportive option.
Support Hosiery
Supportive socks and tights also provide beneficial support for many senior citizens. Technology has created absorbent fibres that speed moisture evaporation whilst antibacterial agents prevent the spread of bacteria and fungal growth. This is used in the manufacture of support hosiery, like compression stockings, that provides both comfort and support to those individuals who may experience ankle swelling or be recovering from vein stripping or other lower leg ailments and treatments.
For the elderly who are experiencing reduced hand movement, back problems or use a wheelchair, there is also a flexible sock and stocking aid that offers assistance when putting on supportive hosiery.
Orthopedic Walking Shoes
Preserving good foot health requires regular inspection of the feet as well as the use of supportive products that maintain flexibility and mobility whilst reducing discomfort. It is therefore important to wear shoes that provide the correct support and protect any established foot problems.
Orthopedic shoes are no longer considered drab and unattractive. There is a huge range of styles available, including formal shoes, training shoes and casual shoes. Orthopedic shoes incorporate comfort and style, although they do have a heel height restriction that reduces damage caused by angled and/or high heels. Therapy shoes that provide support and stimulation of reflexology points are also increasingly popular.
You might also like...
I have a prescription from Dr. at OHSU, but I need some lab to make the Orthodic insoles for my shoes. I was told that Legacy had a lab that would make molds of my feet to make a full length premolded insoles with the 5th metatarsal off loaded for theleft foot. Is this true? and if so how do I make an appt. for such.
Pat
- 25-Dec-20 @ 2:39 AM