Choosing the Right Dance Shoes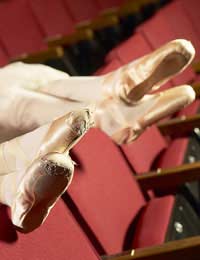 With dance now becoming as popular an activity as sport, it is important to wear the correct attire when participating either for enjoyment or competition. This means that the dance shoes you wear must be comfortable, non-restrictive and comply with the particular kit or dress requirements of the type of dance you enjoy.
Why Wear Dance Shoes?
There are many different types of dance shoes available. Each type of shoe is designed to enhance performance in the particular form of dance it is created for. For instance ballet slippers enhance flexibility of movement and provide lightweight support and comfort, when performing ballet moves. Jazz shoes, on the other hand, provide a much studier form of support whilst protecting the foot from more energetic movements.
Whatever the type of dance you do the shoes you wear must be able to stretch and flex so that your movements are natural and comfortable. Your feet must also be able to breathe.
Dance Shoe Specifications
Some types of dance require specialist shoes that are designed and constructed to withstand a great deal of impact. Flamenco shoes are made of patent leather and have strong, chunky square heels that support and balance the dancer's body weight. The skill level of the dancer will also determine the size of the heel that is most suitable.
Modern dance pumps or sneakers are also designed in a way that provides additional arch support and are form fitted to the dancer's individual size and width fitting. This snug fitting ensures the dancer is able to move with ease.
Dance shoes are also lighter in weight than conventional shoes, provide padded insole support and will have more toe room so that your feet remain comfortable for longer periods of time.
Shoe Fitting
If you participate in dance classes or have attained a certain level of skill you will want to ensure that your skills and performance continue to improve. Therefore choosing the correct type of shoe for the dance style is important. As to is regularly checking your shoes fit correctly and provide the support needed.
Specialist dance shoe shops stock a wide variety of performance and dance shoes. Staff will measure your feet and will be able to advise you about the best type of shoe fit and style.
Dance Beginners
If you are exploring the world of dance you will probably need to attend a few classes before deciding whether or not to continue with the particular style of dance you are interested in. You will therefore most likely wear your own shoes until you are sure about developing your skills. It is worth remembering that conventional shoes will not be able to perform in the same way as specialist dance shoes, so it is important to seek advice from the dance teacher about the type of shoe to wear as a beginner. Some dance shoe styles can be an investment purchase so it is worth ensuring your passion for dance is more than a passing fancy before you buy expensive performance shoes.
You might also like...