Choosing the Perfect Wedding Shoes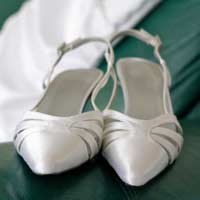 The shoes you choose to wear, to compliment the wedding outfit you mostly probably spent months deciding over, can in actual fact influence the mood of the entire day. Choosing hastily could mean your attention is focused on the uncomfortable fit, style or colour of your wedding footwear, instead of on the celebratory experience of the event. Picking a perfect pair of wedding shoes however, will mean that you will barely give them a second thought.
Bridal Shoes For Her
For many brides bridal shoes are another expensive purchase that will be worn once before being stored away for nostalgia. Handmade designer shoes, that match the exact colour and fabric of the wedding gown can create a sizeable dent in the wedding clothing budget. Bridal shoes do not have to compromise on style, elegance or originality. Unless you are confident that your feet will be comfortable crammed into dainty silk slippers for the duration of an entire day, however, it is best to consider an alternative shoe to compliment your outfit.
A bride's major consideration should be comfort. Choosing a shoe that accentuates your overall look and provides good support, flexibility of movement and is comfortable may take a little time but will ensure you enjoy your day without feeling the pinch where you shouldn't. Many specialist bridal shops will stock a good selection of wedding shoe styles in a variety of width fittings. A custom-made pair of wedding shoes may also provide a high level of comfort, but will also carry an expensive price tag.
Bridal Shoes For Him
Unless dressed by a professional wedding outfitter most grooms will opt to wear sensible shoes they probably already own. Unlike the bride a groom is generally content to choose the first pair of smart, attractive and affordable shoes he finds. A supportive fit that provides comfort will be generally be the first consideration, which will ensure the groom is able to enjoy the wedding with the minimum of fuss.
Wedding specialist shops do stock a selection of smart dress shoes although other suitable shoes can also be found in high street stores and other retail outlets.
Wedding Party Shoes
Whether you are a close family member or barely know the couple tying the knot you will nonetheless wish to dress the part when you attend the wedding. Taking care over the type of footwear you choose to wear to the wedding not only reflects your personal style, but also shows respect. It's not the done thing, for example, to turn up wearing scuffed shoes or trainers. The perfect wedding guest shoes are smart, stylish and comfortable and finish off the outfit you have chosen to wear.
Female guests who chose to wear high heels should perhaps consider taking along a more comfortable pair of shoes to slip into later in the day, as wearing heels for long periods of time can cause feet to become fatigued and uncomfortable.
Shoes For Children
Whether the child is a bridesmaid/page or a wedding guest it is important to ensure their feet are comfortable and sensibly supported and protected throughout the day. Choosing footwear to compliment the clothes they are wearing is far less important than finding a pair of shoes that provides good support, flexibility of movement and comfort.
You might also like...