What to Look For in Walking or Hiking Boots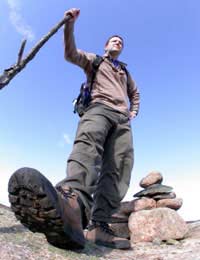 A good quality pair of walking or hiking boots should be durable. They will however, also be an investment purchase, as a pair of boots that provides suitable coverage and protection in a number of conditions will be more expensive than general walking footwear.
The Importance of Good Quality Boots
If you plan to spend time walking in the great outdoors you will want your feet to be comfortable, dry and protected. The footwear you choose will need to perform well in all weather conditions, and should provide substantial ankle support, shock absorption and sole protection.
The walking or hiking boots should also be waterproof and suitable for the level of walking you intend to do – low level, hill walking and trekking, winter walking and mountaineering.
Hidden Extras
Most walking boots are designed with your comfort in mind. However, there are some styles that may include features that you do not require, for your particular type of walking activity. Walking boots can be an expensive purchase, so it is therefore worth checking that you are not paying for features that you don't really require.
What Should You Look For?
Once you have decided what type of walking you will be doing you will be able to look for a pair of sturdy boots that feature all the requirements you need. Whilst it goes without saying that your walking boots must fit your foot size and shape, you should also take into account your overall body size and weight and whether or not you will be carrying a day or backpack whilst out walking.
Comfort and Fit
To ensure the best possible fit it is worth taking your time choosing the right boots for your needs. The walking boots should be a snug fit, whilst wearing hiking socks, but there should be enough space to be able to insert a finger in the gap between the heel and the back of the boot. When laced up your feet should also not slide forward.
The boots should have a treaded sole, to ensure non-slip support. The stiffness and firmness of the sole will determine the boot's suitability for rocky or icy surfaces. It may be worth investing in a pair of crampons, to aid walking in snowy conditions, too.
Laces should be easily adjustable and quick to fasten. Hooks and 'D' rings are often a feature of hiking boots and make lacing much easier, when working with cold hands. Walking boots that have locking style hook fastenings are also a good consideration.
Construction Considerations
Leather is both waterproof and breathable and provides the ideal material for the construction of walking and hiking footwear. Some boots will also have a waterproof Gore-Tex lining, which provides additional insulation against the elements. Although the thickness of the leather will determine the warmth and comfort of the boot, lighter-weight alternatives made from a fabric material will offer sufficient protection and comfort.
Regularly protecting your expensive boots, with an application of water-resistant spray or wax, will also keep your walking boots water-resistant for years to come.
You might also like...