How to Get into Foot Modelling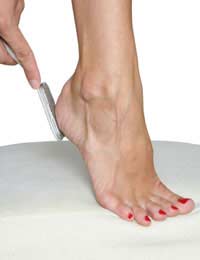 Body part modelling can be a lucrative career option provided your hands, legs or feet are considered to be in tip-top condition. Even modelling just part of your body could lead to additional modelling assignments, provided your overall appearance is flawless and perfect.
The Types of Modelling Work Available
Casting directors and advertising agents are always on the lookout for a perceived vision of perfection. If you have small, dainty feet you could secure a contract modelling cosmetics like nail polish, lotions and creams or pedicure and spa services. Although feet of various sizes may be taken into consideration what must be in evidence is clear, even skintone and no blemishes of any kind.
Your perfect feet could also be cast in a film, if a producer or director is looking for a particular type of look, for instance tiny, big, skinny or weird looking feet.
Body Part Maintenance
As a foot model it is your priority to ensure your feet are flawless. This means that blisters, calluses, corns and other blemishes will stop you securing work. The overall skin tone and colour of your feet also needs to remain constant so it is your responsibility to pamper and lavish care and attention on your feet. Feet, that are fit for modeling work, must also be silky smooth and vein-free.
Particular attention should also be paid to nailcare. Regular pedicures are an essential part of the foot model's footcare regime, so you must be prepared to invest in this level of professional bodycare service. Maintaining supple, blemish-free skin is also essential so a selection of softening creams and lotions must always be to hand. Carrying wet wipes with you is also recommended, as these can be used to remove any dirt. During the sunnier months it is also important to slather on sun-protection in order to avoid unsightly tan lines.
Diet Monitoring
What we choose to put into our body as fuel will affect the condition of our skin. A diet that is high in salt, caffeine or excessive alcohol may create excessive sweating and swelling in the feet and lower leg. If you are monitoring your diet in order to maintain peak appearance of one body part it makes sense to create a sustainable diet that helps your entire body tone-up. Looking your best, whilst on modelling assignments could secure you further work opportunities.
How to Find Foot Modelling Work
Registering with a model agency should be your first consideration if you are serious about body part modelling. There are a number of specialist agencies that find work for body part models, but any major agency will be able to point you in the right direction.
Body part models are in demand, and this applies to men as well as women. Whilst the majority of modelling work will be photographic, a foot model may also be asked to model at exhibitions. The variety of work available may be varied but it is worth remembering that body part, like all other forms of modelling, is a competitive business.
You might also like...
I am female 32yrs of age.I am from south africa I would like to enter into feet and hands modelling industry .I know and I believe that I hv beautiful hands and feet.I would like to make a career out of it.
none
- 7-Jul-17 @ 3:44 PM