Prenatal Reflexology Explained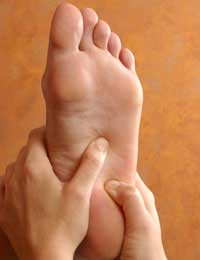 Reflexology not only helps improve ailments and conditions experienced in the body, it also works to care for the mind and spirit of the recipient. Prenatal reflexology therefore focuses on creating the most harmonious experience, for the expectant mother and child, by energising, relaxing and rewinding the mind, body and spirit.
Reflexology And Preconception Care
Reflexology is an ancient technique that heals, unblocks and triggers changes in the body simply by focusing attention on specific points on the feet. Although reflexology is commonly used during the treatment of minor illnesses, it is also successfully offered as a supportive therapy throughout all stages of pregnancy. During the early stages of pregnancy reflexology is effectively used to reduce swelling in the feet, ankles and legs, as well as a means to combating morning sickness and stress. In labour reflexology can help reduce pain, delivery and recovery times.
As a relaxation treatment reflexology can help aid infertility issues as it provides deep relaxation that reduces stress, anxiety and tension. This enables a couple, who are experiencing difficulty conceiving, to relax more deeply so that conception becomes more relaxed. If fertility reflexology sessions are attended on a weekly basis this also increases regulation of menstruation, and hormonal balance, and the stimulation of the production of sperm, which affects conception in a positive manner.
Pregnancy Care
A pregnant woman experiences many physical and hormonal changes during the gestation period. Whilst reflexology may initially appear appealing because it offers a means of instant relaxation, expectant mothers are encouraged to experience reflexology because it provides a safe, holistic method of providing relief of many complaints – including headaches, nausea, heartburn, backache, stress and tension, fatigue and sleep problems, pain and loss of bladder control.
Reflexology helps maintain balance in the body and therefore centres and harmonises a woman's body in preparation for birth.
Reflexology For Parents And Children
This holistic treatment is a soothing relaxation technique for parents, babies, toddlers and child. The calming and relaxing treatment re-balances and re-energises the body and therefore reduces general fatigue. In babies and small children the gentle massaging of the feet enables the removal of toxins in the body, which aids constipation, colic, teething, excessive crying and other common childhood problems.
New parents will benefit from an increase in energy and a reduction in fatigue and stress. A new mother may also find that reflexology helps stabilise weight, aids lactation and encourages the speeding up of recovery from caesarean delivery. Post natal depression can also be successfully treated with regular visits to a reflexologist.
Reflexology And Miscarriage
Women who experience miscarriage can benefit from a lighter pressure reflexology treatment. The pelvic area that is represented on the foot as specific reflexology points may appear more sensitive and tender to the touch during this time. As well as providing a supportive treatment a reflexology session may present an opportunity for the client to express her loss. Although the therapist will be experienced in helping the healing process after miscarriage it is important that healthcare advise is sought after reflexology treatment.
You might also like...