Hyperhidrosis: Overcoming Excessive Sweating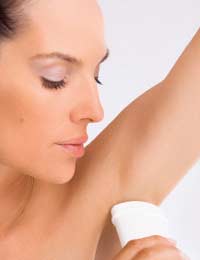 Sweating is an essential natural occurrence that allows our body to regulate temperature that in turn controls and affects how the body reacts to health challenges. Excessive sweating, known as Hyperhidrosis, has no known cause or cure and can affect individuals in many ways.
What is Hyperhidrosis?
Hyperhidrosis is the name given to the condition that creates excessive sweating in the hands, feet, underarms or other area of the body. When the body's temperature rises due to exercise or physical activity, warm weather or emotional factors like stress or anger, sweating allows the body to regulate the body's natural temperature so that a cooling down process begins. Sweating in the absence of a high body temperature can be caused by anxiety or stress, or by an imbalance in the nervous or hormonal systems.
Primary and Secondary Hyperhidrosis
Primary Hyperhidrosis recognises the condition as being a genetically inherited trait that is passed on through families. Secondary Hyperhidrosis, on the other hand, occurs as a direct disorder of particular glands, and may result from health challenges concerning diabetes, gout, menopause and other gland related problems.
Whilst moderate sweating, in adults, in considered normal excessive sweating that requires frequent washing and changes of clothes can impact on the individual's life in many ways and it is recommended that a proper diagnosis is sought prior to treatment.
Types of Hyperhidrosis
Amongst the most common forms of excessive sweating are three types that are easily identifiable. Palmar Hyperhidrosis is the feeling of moist, clammy palms that some people experience when they are nervous or anxious. This type of excessive sweating can become a social problem as it causes discomfort when meeting new people and having to shake hands.
Excessive underarm sweating is known as Auxillary Hyperhidrosis and this causes consistent and unattractive staining of clothing that is also uncomfortable to wear.
Plantar Hyperhidrosis is the name given to excessive foot sweating that manifests an increased foot odour and creates moist socks and footwear.
What is Excessive Sweating?
Sweating that cannot be effectively controlled by the application of antiperspirant deodorants or a normal washing and cleansing regime is considered to be excessive. Excessive sweating can cause a problem for individuals as it affects the quality of normal life and may have any effect on confidence and everyday social interactions with other people. If working in an environment with other people, the personal problems experienced may create feelings of anxiety and triggers issues like depression.
Whilst there is no known cure for Hyperhidrosis, it can be controlled and managed so that an individual is able to overcome the difficult social aspects of the condition and reduce emotional distress experienced.
Natural Remedies
Natural options provide a manageable solution to dealing with the effects of Hyperhidrosis. Wearing loose, light clothing and layers helps ensure that the temperature of the body remains at a suitable constant. Applying antiperspirant deodorant products and other creams and lotions that help keep the body cool is also essential.
Limiting caffeinated drinks will also help to minimise and control the body's reaction to changes in the nervous system and will help keep the body at a regulated temperature. Making other subtle lifestyle changes that perhaps impact on the amount and quality of physical exercise and movement may also help reduce excessive sweating.
Medical Treatment
Anticholinergic drugs can be used to treat Hyperhidrosis. These drugs effectively block specific neurotransmitters, in the body, that regulate and control sweating therefore reducing the amount of sweat produced by the glands. As with most drugs there are side effects to taking the anticholinergic drugs and these may include mouth dryness and drowsiness. Taking a time release version of the anticholinergic drugs, however, may help in regulating these side effects.
In most extreme cases the removal of the sweat glands may be a consideration. This type of treatment is a surgical procedure and can be performed on specific areas of the body. Another surgical option is reversible clamping, which is performed on the thoracic ganglion of the sympathetic nervous system in order to permanently reduce the amount of sweating.
A less intrusive measure is botox that can be injected into the underarm to temporarily block the nerves that stimulate and regulate sweating. Botox provides a temporary and reversible solution.
Other Treatment Options
Whilst there is a limit to the type of treatment available for controlling excessive sweating there are a number of variable alternatives that may be worth considering. Alternative therapies like NLP and hypnosis may help in the identification of emotional triggers that create sweating in response to anxiety, stress, anger and other emotional feelings.
You might also like...