Ticklish Feet: Why? and How?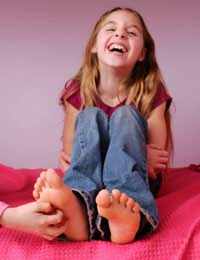 Tickling is the involuntary twitching movement of the part of the body that experiences sensitive, and unexpected, touch. Light, trailing or feathering movement across the skin can create this twitch, which can be pleasurable or highly unpleasant. Because feet have a high concentration of sensitive nerve endings application of light touch, to the soles of the feet, can produce sensations that trigger twitching and laughter.
What is a Tickle?
A tickle feels like a creepy crawly sensation that moves across the skin and creates a defensive feeling. Your body instinctively responds by recoiling from the touch because it is in panic mode. Once you are able to recognise the tickler, and their intention, you are able to relax and release the fear of panic.
Most of the time a tickle is an unexpected experience. It is usually caused by someone surprising you by touching you on a part of your body that is particularly sensitive to light touching strokes.
The Purpose of Tickling
Tickling creates a bonding experience that is often shared between a parent and a child. It can sometimes form part of rough and tumble play where tickling becomes a defensive movement. Laughter encourages the tickler to continue tickling, and even though sometimes this sensitive reaction may feel a little unpleasant tickling is generally accepted in good humour. Tickling is a form of social play and so experiencing this sensitive reaction should be enjoyed if possible.
Sensitive Touch
Our feet, backs, armpits, palms and chest have many nerve endings that are responsive to light, sensitive stroking. The lighter the touch the more likely you are to experience a twitching tickle. Firmer, more direct touching does not trigger a reaction from the nerve endings. Some people have highly sensitive nerve endings in their feet and this means that any form of tickling is actually unpleasant and/or painful.
For some people, with highly sensitive feet, even a foot massage, pedicure or reflexology treatment can prove to be an unbearable and uncomfortable experience. If your feet are particularly sensitive it is worth mentioning this, to the therapist who is providing treatment, before the therapeutic session begins. This will enable them to make adjustments to the pressure applied to the sensitive nerve endings during treatment.
Besides providing a good means of sensitivity to touch our feet also contain pain receptors that enable us to distinguish between pleasure and pain. Because the nerve endings in the foot carry both receptors being tickled can sometimes seem like it is a pleasurable and painful experience.
Good Health Indication
A healthy foot is highly responsive to touch, whether this is from pressure-point stimulation like reflexology or massage or ticklish social play. Sensitive nerve receptors show that the feet are responding in an acceptable and expected manner. If feet are non-responsive to touch, tickle or pressure a medical condition could be a contributing factor. Losing sensitive sensations in the feet can be a sign of the onset of neuropathy – the deterioration of the nerves – and should be examined by a GP or specialist consultant.
You might also like...