Improving Foot Movement With Yoga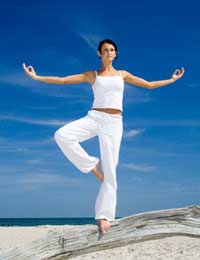 The importance of maintaining good foot health is often overlooked. We generally take our feet for granted until we experience some kind of mobility problem. However, improving foot movement requires little effort. Understanding the importance of keeping feet flexible will enable you to overcome any problems that may arise over time.
Common Foot Problems
There are many common foot problems that become uncomfortable and may hinder movement and flexibility in some way. These include flat feet, bunions and hammertoes. Shoes which offer inadequate support, and lack of muscle tone in our feet, also contribute to the health of our tools of mobility. Acknowledging that there are preventative measures you can take to improve mobility therefore, will help you maintain good foot health.
Foot Anatomy
A foot contains 26 bones, 33 muscles, 31 joints and more than 100 ligaments. There are two different kinds of muscles – short intrinsic muscles that run between the bones of the feet, and extrinsic ones that extend from the leg to the feet and control all movement. Keeping all this working in tip-top condition therefore requires a bit of effort.
Foot Movement
Our feet have a number of key movements. Dorsiflexion draws the toes up towards the knee, whilst Plantar Flexion pulls them back down and points the toes. There is also Inversion Adduction – turning in of the foot – and Eversion Adduction – which turns the foot outwards. Together all these movements provide us with a good range of flexibility.
So that we can move comfortably proper alignment of the feet is necessary. This means we must be able to equally distribute weight between our feet, lift the arches and ground the four corners of our feet – the big toe and baby toe, and the inner and outer heel.
Practicing yoga poses increases flexibility and improves muscle tone in the feet. It also stretches the foot muscles and connective tissues. Maintaining good muscle tone is important if you want to maintain good foot health, so therefore by ensuring our feet are properly aligned we begin to improve our movements.
Yoga Poses
Any pose that strengthens the muscles in the leg and feet will also improve circulation and stability and help reduce leg cramps and swelling to the ankles. Following a few simple yoga poses, on a daily basis, is a good way to start improving the health of your feet.
The Baddha Konasana pose presses the four corners of the feet together, whilst drawing the toes away from each other. This yoga pose activates the arches of the feet and strengthens the muscles.
Squatting, whilst stretching the toes, provides an intense stretch for the bottom of the feet. To do this you simply kneel with your toes tucked under behind you.
The yoga pose Viparita Karani restores energy to your legs, as you place them up against a wall. Doing this enables blood and lymph fluid to flow back towards your body.
Combining these movements with a variety of standing poses – which distribute weight and create proper foot alignment – and feet stretchers and strengtheners will all enable you to improve the health and condition of your feet.
You might also like...