Where to Find Shoes in Larger Sizes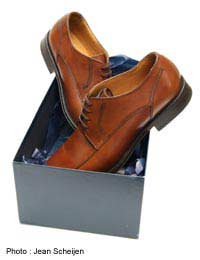 Although large size shoes – 8-12 for women and 12-16 for men – are designed, manufactured and available, actually finding larger sized footwear can prove to be a difficult and frustrating experience. Most high street shoe shops are limited in the range of sizes and fitting widths they are able to stock, although some stores do offer to order in larger size shoes on request. If you happen to have larger, wider or irregular, sized feet shopping for a new pair of shoes can be problematic. Knowing where to look however can help reduce the frustration and time you spend shopping.
Average Sizes
Contrary to belief large sized shoes that are flattering, comfortable and stylish are available. Unfortunately, because most of the buying public generally have average sized feet larger and wider shoe sizes are not stocked by the majority of popular high street shops and retail outlets. There is a huge range of larger sized footwear styles and colours to buy but they will not be as easily available.
Size Matters
If your feet are bigger, or wider, than the recognized standard shoe size it is important that you have your feet measured properly. This will ensure that you do not attempt to cram your feet into footwear that is not designed to comfortably accommodate your somewhat larger size. Once you know your exact measurements you will be able to shop for comfort and style rather than convenience.
Specialist Retail Outlets
Specialist shoe shops provide a level of service that offers customers specific requirements like wider fitting or larger sizing. Although there are fewer specialist shoes around you will be able to find them if you research your requirements, either online or via a brochure directory service.
A specialist shoe retailer will be able to provide a measuring service and advice about seasonal ranges and ordering facilities. Fashion stores that cater for larger body shapes and sizes may also stock larger size, and wider fitting, shoes and other footwear. Big shoes no longer look unattractive, as fashionable and contemporary colours, styles and designs are now manufactured as the increase in customers requiring larger sizing continues to grow.
Online and Mailing Services
Shopping for large size shoes online is quick and easy, and provides a useful resource when searching for specific style requirements. Many larger shoe size stockists and retailers provide an online shopping service and an additional catalogue or brochure option for customers. By signing up to the company's mailing list you will receive details of new seasonal shoe style launches, discounts and other relevant information.
Alternative Suggestions
Designer retail outlets that sell out-of-season merchandise at a discounted price often stock less popular larger sized shoes and clothing. These retail parks are generally situated in a large industrial area and offer a good range of high street and designer brand name stores.
If however, you are unable to find the perfect larger size shoe you could consider having a bespoke pair made to your own unique specifications. This way you can decide exactly the type of design, colour and leather you would like. Do bear in mind however, that although bespoke shoes offer made-to-measure comfort, quality and style they will also be more expensive than high street shoes.
You might also like...