Supportive Feet Products for Runners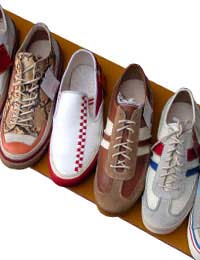 An active lifestyle requires optimum health and mobility. Maintaining a good footcare regime will help ensure that sporting and leisure activity, as well as outdoor pursuits, remain an enjoyable experience. In order to support active feet, so that they are in peak condition at all times, utilising supportive foot products is essential.
Supportive Training Shoes
Running and training shoes are designed to cradle and support the foot, as well as to protect it. A well-designed running/training shoe will offer structured cushioning and proper arch support. Performance endurance and a reduction in the risk of injury are also key elements when choosing a pair of supportive running shoes or trainers.
Because proper balance is important to the success of any runner, ensuring feet are well protected is essential. The stress impact caused by running, exercise and training will also apply considerable pressure to the feet. Without supportive training shoes a runner may experience a decrease in performance, potential foot pain or the risk of injury. Good support however, may increase a runner's stride and improve stability.
Flat Footed Runners
If you have over pronation, or flat feet as it is also known, this condition can be made worse by running. To avoid heel and arch pain it is therefore important to ensure training shoes provide good arch support. Arch support provides protection against foot tissue inflammation, which can be very painful. Even regular runners can be prone to developing aggravated inflammation of the connective tissues, so choosing the correct type of supportive running shoe is important.
Arch support is generally available in silicone and leather. These materials offer the best form of support and correction and help restore the position of the arch.
Runner's Knee
Adjustable comforters that fit snuggly over the knee can help relieve discomfort caused by swelling, sprains, arthritis and tendonitis. The light, soft, breathable fabric provides firm support without impacting on performance. For runners that have a more prominent source of pain, like Patella-Femoral or knee cap pain, a gel knee support can help stabilise the knee during sport or outdoor activities like running and walking.
Smaller, discrete supportive straps are also available. These have a gel-filled pad that contours snugly below the knee, to apply firm pressure on the Pantella tendon.
Heel Cups
To help minimise the effects of shock runners may consider using supportive heel cups as additional support. Heel cups are available in a variety of materials including plastic, silicone gel and double waffle fabric. Heel cushions line the border of the heel and help relieve pain and pressure during running or training. The contoured shape of the heel support provides stability and can help with over pronation.
Sports Insoles
Runners with problem prone feet can benefit from the use of sports insoles. Because the shape of the insole is contoured feet are supported both across the arch and lengthwise. Shock is absorbed by the comfortable arch support and the heel is also adequately supported. This form of supportive product therefore offers essential help in reducing fatigue and providing pain relief.
You might also like...