How Can High Heels Affect Your Feet?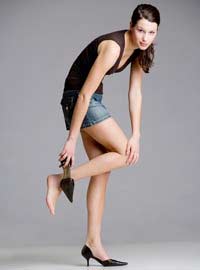 Most women will have worn high heels at some point in their life. Although many women feel that wearing heels helps increase their body confidence, they remain unaware of the potential damage to their back, legs and feet that these fashionable items may cause through continual wearing.
How Heels Affect Your Gait
Due to a shift you make to adjust and maintain balance, wearing high heels will naturally affect your posture. Walking in heels means that your foot is plantarflexed - positioned downwards – which restricts your ability to lift your foot away from the ground in a natural way.
In order to propel your body forwards the hip flexor muscles in your legs will have to work much harder. Your knees will also be flexed forward and this combination of altered movements affects the way that you normally walk.
How High Heels Affect Your Feet
Forcing your foot into a painfully slanted forward position means that your weight is concentrated on the ball of your foot. Instead of your body weight being evenly distributed across the arch of your foot, this slanted position creates a shortening in the Achilles tendon. Your toes will also be scrunched together and bent in an upward position. The muscles and joints in your feet are therefore naturally affected, and over time this will seriously damage the hamstring muscles in the back of your legs.
Common Foot Problems
Wearing heels can exacerbate existing foot problems, but also create new ones. Common foot problems can include the shortening and tightening of the Achilles tendon, inflammation and pain in the ball of the foot – known as Metatarsalgia – back pain, nerve problems and foot deformities like corns, bunions and hammer toes. Osteoarthritis in the knees is also another condition that is made worse by the wearing of high heels, over prolonged periods.
Less serious problems include blistering and soreness, which if left untreated can develop into painful corns. Toenail fungus problems may also occur if attention is not regularly paid to the condition of your feet.
More Severe Problems
Stress fractures – cracks and breaks in the foot bones - can become more common with age. A twisted or sprained ankle is also more likely to happen if you are wearing high heels. As a result of continual applied pressure to the ball of the foot, Neuroma – the growth of tissue under the toes – can also become painfully obvious.
How to Minimise Pain
Wearing shorter heels – no higher than 2 inches – will considerably reduce the amount of pressure and pain. Using comfortable insoles and support cushions will also help minimise discomfort. When appropriate, changing into flat shoes or ensuring you are seated, will also enable you to limit the amount of pressure you apply to your feet.
If your job requires that you wear heels on a regular basis, learning how to balance your weight correctly will help reduce inflammation and pain. Adjusting your poise but maintaining a straight posture will also help. Gentle stretching of the hamstring muscles, by exercising the backs of your legs, will improve any pain or discomfort you may already be experiencing and will stretch the muscles so that they retain flexibility.
You might also like...