How Can I Get Rid of my Corns?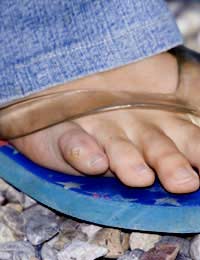 Q.I have really bad corns on all toes, how can i get rid of them? Is there anything I can use to get the skin back.
( candi smith, 24 September 2008)

A.
The best advice for this problem is to either try any of the available medicated creams that are designed specifically for this problem or to see a chiropodist (also known as a podiatrist). The types of lotions that are aimed at treating corns and calluses are made with intense moisturisers that soften the hard skin that forms the corn and surrounds the area. This allows the skin to be more easily removed.
A chiropodist can treat your corns using special instruments that will scrape the dead skin away. By doing this the pressure that builds up on the corn that causes the pain will be reduced. Do not try and do this yourself as you may introduce infection, cause bleeding or damage the healthy tissue that surrounds the corn. Once the corn has been treated it is important to protect the area from a recurrence by using special corn plasters, wearing suitable footwear and moisturising the skin regularly.
Some GP surgeries will provide a referral for you but this does depend on your location available services in your area and to some degree your age and the severity of the corn. If you are not entitled to see a chiropodist through the NHS you can make an appointment with one of the many private practitioners that can be found using your local telephone directory.
Corn plasters are small adhesive pieces of fabric or material that are placed directly over the site of pain. they are cushioned and will protect the area, cushion any contact between toes (or footwear) and help to relieve pressure.
Suitable footwear include shoes that are not pointed, do not have too high a heel which causes pressure to build up in the toes and ones that fit properly (which help allow weight to be more evenly distributed), ones that do not cause friction between the shoe and the foot and ones that allow for correct posture, pace and pattern of step and stance.
If you have had corns for a very long time and have found that your skin or even the entire structures of your toes have been affected it is vital that you protect the area from injury by ensuring you wear suitable footwear at all times, keep the lower extremity warm, keep it clean and dry and if the defect is very noticeable, causes pain or affects your mobility, please see your GP who may refer you to a specialist.
You might also like...
the information on this site seems useful. i have found the problem i have and hope it cures soon
unknown
- 10-Jul-14 @ 12:29 AM