How Can I Relieve Stubborn Foot Odour?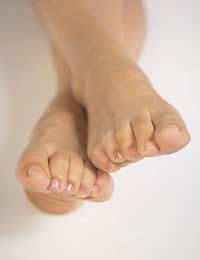 Q.
I have read your information on foot odour and I am currently at my witts end trying to combat this problem.
Resorting to buying new shoes, unfortunately the smell occurs with in half an hour. I have tried every type of spray for the foot and shoe and I am lucky to get half an hours relief.
Can diet play a hand in this? I know stress must be a factor as I have commenced new employment and it has become extremely noticeable.
Any advice here would be greatly appreciated!
(L.W, 16 September 2008)

A.
I'm sorry you are suffering with this problem but you are not alone.
Stubborn foot odour can be a source of extreme annoyance and embarrassment and can prevent people from enjoying a normal lifestyle.
You are correct that diet plays a role in the odours we omit and strongly fragranced food items such as onions and garlic for example should be limited or even avoided to see if this makes any difference.
Cotton socks can help as these allow the air to circulate as do permeated shoes which are fine in the summer but not practical in the colder months.During the winter try and use footwear that is made of 100% leather and avoid rubber or plastic soles. The only draw back here is that these are usually a lot more expensive to buy.I expect you have tried washing your feet frequently and buying expensive products from the chemists already?
If you are sweating profusely in other areas as well such as from the face neck and armpits it may be worth seeing your doctor who may refer you to a specialist who deals with this problem known as hyperhidrosis (excessive sweating). In some cases surgery may be an option which involves a small operation to sever the nerve responsible for the chain of events that causes the sweat glands to over stimulate. This option however is not often recommended for foot odour problems alone.
I would recommend however that you do see your GP if this problem is really getting you down as it may be hormone related. Women especially suffer from hormonal changes a lot more frequently than men with symptoms ranging from very mild to more unusually ones such as smelly feet. It may be worth checking your hormone levels or altering the pill you are on (if you take the contraceptive pill) as this may be contributing to your odours.
If necessary also make an appointment to see a chiropodist who may be able to help you target the areas of bacteria build-up or suggest a product that will work for you.
Remember to alternate the shoes you wear leaving one pair to air for a day in between uses and to change socks and wash feet regularly using an anti-bacterial product followed by a strict drying regime.
Good luck in finding a solution to your problem and I hope this advice has helped. If you do find a miraculous cure, please do let us know and we can inform our other readers.
You might also like...