What's Causing the Pain in the Arch of my Foot?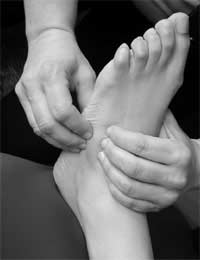 Q.
The arch and top of my foot feel very tight and stretched, with some discomfort near the ball of my foot. When I try to exercise this becomes more painful and tight. It has been this way for about 6 months, and the last 3 months became worse after leg and foot exercises.
I am in a wheelchair and have dermatomyositis. Do you think the muscle inflanmmation in the foot could cause this? I would really appreciate all the help you can give.
(Mrs Pamela M, 28 September 2008)

A.
There are a few possible causes of your foot pain with the most obvious being related to the dermatomyositis. As this tends to be a progressive condition it makes sense that it would worsen over time hence being more noticeable in the past three months.As you have mentioned that the pain is worse after performing simple foot exercises it may be beneficial to make an appointment with a physiotherapist who can assess your current foot and leg exercises and possibly suggest some other ones that are less likely to cause this pain.
Occasionally the type of footwear that is worn the most frequently causes pain especially high heels, poorly fitting shoes and ones that prevent the foot from moving smoothly and comfortably so it would be interesting to know what type of shoes you wear the most often.
It is also possible that it could be caused by a condition called plantar fasciitis in which the plantar fascia which is a sheath the runs along the underside of the foot becomes inflamed though the pain is more commonly felt in the heel of the foot.Along with seeing a physiotherapist it may be worth trying the exercises after a bath or shower when the muscles will be warm and usually a little more flexible.
Another possible option is that you have developed arthritis in the foot joints. this condition can be painful and may be worse on exercise and movement and during certain times of the year when the temperature fluctuates.Taking some anti-inflammatory medications may help to reduce the discomfort but as you have dermatomyositis it is assumed that you are taking some forms of medications on a regular basis. Try soothing the foot using cooling gels during flare-ups when the feet feel hot or massaging them using thick luxurious moisturisers as this can help improve circulation and keep the skin of the feet well hydrated.
A visit to your GP should help make an official diagnosis for your pain and any existing medications and therapies can be amended to help you manage the discomfort more effectively.
You might also like...