Collapsed Arch in Foot: Could a Fall Have Caused it?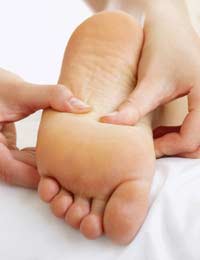 Q.
Eighteen months ago I had an industrial accident that involved me falling a couple of feet, landing on one foot that inverted. I had one month off work, but have had pain ranging from severe to mild ever since.
I have just been told that I have a collapsed arch in this foot, could the accident have caused this?
(D.H, 6 April 2009)

A.
Painful foot arches can be caused by a number of reasons. Wearing high heels, or ill-fitting shoes, for long periods of time can cause severe pain and sore foot arches. An injury that is caused by playing sports can also result in collapsed arches, as the plantar fascilitis ligaments in the foot become over-stretched and painful. In fact any extreme pressure to this area of your foot can impact on the arches.
What Causes Collapsed Arches?
A supportive arch works rather like shock absorber. Every step that we take allows us to place up to 5 times our body weight of pressure on our feet. If our arches have been weakened each step that we take could seriously damage the bones in our feet and legs, and also cause severe lower back problems. This is because we depend on the support of the shock absorbing arch to provide flexibility of movement.
Any weakening of the muscles in the arches of your foot will cause the arches to collapse. Pressure that is applied to this supportive area of your foot, for lengthy periods of time, may also cause pain and discomfort and will result in the muscles stretching and weakening.
How To Reduce Pain
Wearing shoes that provide good arch support is essential. This also means ensuring your sports footwear is suitable for the activity. Wearing insoles that support the foot arches is recommended, as is fitting a heel pad or cushion, which slightly lifts the heel and reduces pressure on your arches. A heel cup or cushion will also help minimise any shock pain caused by the impact of pressure.
An ice massage will help reduce inflammation, whilst also relieving pressure and tension. Regularly stretching your calf muscles will also be beneficial, as it reduces tightness.
Other Potential Problems
Collapsed arches can be caused by having flat feet. If the arches in your feet have been weakened through injury, or by the wearing of poor supporting footwear, your feet will roll inward – pronation – which increases the likelihood of developing flat feet. Because there is no support in the arches further problems can develop because you will be shifting pressure to other points in your foot as you walk, in order to alleviate pain and discomfort.
You might also like...
@Kelly - surgery may be considered in difficult cases but it is generally undertaken as a last resort. I've heard the University Hospitals of Leicester has been trialling blood injections which can help people suffering with conditions such as plantar fasciitis, but that might be purely through the effects of injury. Unfortunately, there is limited availability on the NHS, (although it's worth checking with your GP) but some hospitals and treatment centres offer private treatment. You would have to investigate the criteria needed in order to qualify. In the meantime, it is important to make sure he wears the correcting supports, even if he can have one fitted that he wears in bed at night. A visit to your GP/consultant and some further research into the treatments available might help you further.
LizC
- 3-Nov-14 @ 2:01 PM
Hi my son has Plantar Fasciitis He is 13 years old and his feet are very deformed looking and being a teenhe doesn't want to even go swimming anymore as hes now very consience of his feet. He won't wear the special shoe for support because of the look of them and I don't blame him he does wear the inner sole support but his feet look really bad they look almost broken. Is there not any operation he can have to correct his feet?
Kelly Waller
- 3-Nov-14 @ 10:57 AM
I have a severe pain that starts in my ankle and moves around my foot it lasts about 3/5 days any ideas what it may be. thanks darren
daza
- 5-Feb-13 @ 11:21 AM