Feet and Flying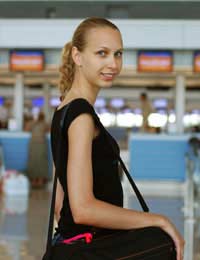 When we fly, especially on a long haul flight, the general health, hygiene and comfort of our feet can suffer. This is often due to being confined to one place for so long, being unable to relax and be fully comfortable and because of atmospheric air pressure changes.
Avoiding Swollen Feet
Swollen feet can occur when flying because of two main reasons. Remaining sitting, having little or no movement can cause the feet and ankles to swell as blood and fluids are permitted to pool in the lower extremities. This not only causes swelling but can be dangerous as it may lead to a blood clot developing, which can be life threatening.
The chances of the feet and ankles swelling can be significantly reduced by employing a few basic rules:
Whilst waiting in the airport, do not remain immobile and ensure that you walk around the airport terminal for as long as possible.
When on the aircraft, try and stretch out as much as possible, changing position frequently.
Try doing some basic foot and ankle stretches and exercises every twenty minutes during the flight. These can be as simple as pointing and flexing the toes repeatedly for a few minutes followed by making circular movements clockwise and anti-clockwise from the ankle.
When able, try and take a short walk around the cabin, this may only be to the toilet but it gives the circulation a push and encourages the pooled fluids to be pumped back around the body.
Using compression stocking purchased from the chemists may also help to keep swelling to a minimum as these encourage the healthy continuation of circulation.
Careful selection of foot wear can help to reduce the discomfort of swelling, as shoes with laces and buckles can be adjusted to fit the increased size of the foot if needed.
Avoiding Excessive Foot Excretions
In order to avoid a build up of foot odour, always remember to bathe and dry the feet before leaving for the airport. Make sure you use an anti-bacterial soap and dry thoroughly. Wearing cotton socks will help to keep the feet comfortable and dry and wear shoes that are made of a natural substance such as leather to allow feet to breathe.If you suffer from excessive foot odour normally, try and bathe feet again before boarding. This will allow any built up bacteria to be washed away and allow for feet to cool.
Remaining Comfortable
Wear loose fitting clothes including footwear and socks to remain comfortable. Change position frequently and when possible and permitted, stand up and walk around the cabin for a few minutes even if it's only to take a trip to the toilet.If you must wear heeled shoes, always try and wear a heel no higher than 1 ½ inches and with a wider heel.
Feet may be kept cooler if cooling gel insoles are worn in the shoe during the flight. If this option is chosen, make sure the shoe is of a large enough size to accommodate the insole and the foot comfortably.
Flying can be an exciting experience for many people, but can become jaded or ruined by suffering from problems with the feet. This is especially true for those on long haul flights or cabin staff. It is important to be very selective about the choice of shoe worn for travelling and also to give consideration to foot and ankle exercises and how to keep feet cool.
You might also like...