Acupuncture for Feet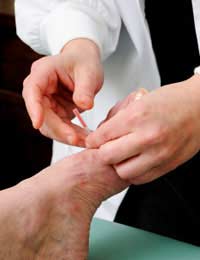 Acupuncture is a popular technique that is used in traditional Chinese medicine. It is a complementary therapy that can be used to treat a large number of health-related issues and problems. Whilst acupuncture may not necessarily be the first option to consider when treating foot problems it is nevertheless worth exploring.
Foot Pain
Due to the complex structure of the foot pain in this part of the body is experienced by a vast number of individuals. Foot and ankle problems represent a high number of appointments within a medical practice. The cause of the pain may occur due to inflammation, injury or restriction of mobility. These problems may affect one or many areas of the foot, including nerves, ligaments, tendons, heels, toes and joints. Without adequate care these problems can become much worse very quickly.
How Acupuncture Works
Acupuncture is a complementary therapy that works by inserting sterilised needles through the skin at acupressure points. This therapy is successfully used to treat many physical and emotional problems on different levels. Although generally used for a wider practice acupuncture may also be used specifically to treat physical problems in the foot and lower leg.
What Can Acupuncture Do?
Acupuncture can help relieve pain that is unresponsive to other methods of treatment. By stimulating the acupoints on the feet blood flow is increased to the foot and lower leg, which can greatly improve medical conditions. Different techniques can also be applied to treat pain in the heel, ankle and ball of the foot.
Acupressure is used directly on the feet and legs to remove particular blockages that restrict the flow of blood to these areas. Pain to the foot is generally caused by cramps that block blood supply and result in pain due to the hardening and weakening of the muscles, joints, nerves and tendons. A practitioner may also loosen the calf and Achilles area so that tension on the bottom of the foot is reduced.
What to Expect
At the start of treatment a patient's posture and mobility will be assessed. It is important that the patient is comfortable throughout the course of the treatment. Mobility will need to be assessed so that a practitioner can determine the best position to place the patient in so that motion is minimised during the acupuncture procedure. A patient may therefore be lying flat of their back or front or on their side during treatment.
Clean, sterilised needles that have been warmed, and sometimes heated using different herbs, are then inserted into the acupoints on the patient's feet. The needles penetrate the skin at different depths and are left in place, in the pressure points, for around fifteen minutes. The amount of time this takes will depend on the particular ailment being treated.
Worth Remembering
Although many patients experiencing chronic foot pain have been successfully treated with acupuncture, it is important to remember that all pain is individual. Therefore a course of treatment that has been successful for one patient may not necessarily provide the same outcome for someone else.
You might also like...