The Art of Foot Reading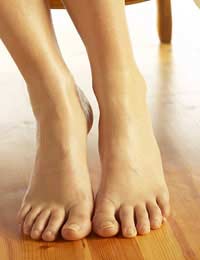 Foot reading, or solestry as it is otherwise known, is the art of understanding how emotions and personality is reflected in the feet. The complementary practice of foot reading is used to help individuals overcome problems that affect health or emotional issues and imbalances, and also as a personal development tool.
What Happens During a Foot Reading?
During the appointment the therapist will take a close look at your feet paying particular attention to the shape and size, the gaps between the toes, the colour of the skin, the lines on the soles and other distinguishing characteristics. How you personally feel about your feet will also be explored, in order to gain as wide an understanding as possible.
The treatment will include analysis of the vertical zones of the feet, examination of the shape of the toes, the condition of the skin and toe nails and the temperature of the feet. Only then is a therapist able to provide an in-depth assessment and reading.
Personal Discovery
The personality traits you have inherited from your family will be evident in the shape, size, skin colouring and flexibility of your feet. Any medical condition or health issue will also be present. For instance, if you are experiencing stiffness of the neck there is a good chance that the joints of your toes will be very rigid and sore to the touch.
Toe length, shape and size is determined by genes and these identify our prime personality traits. A wide, firm foot, for example, shows an individual who is a practical hard-worker with a down-to-earth approach to life.
Whilst foot reading provides insight into many useful aspects of self what it is not is a form of fortune telling or of predicting future events.
Foot Reading Example
As with reflexology certain areas of the feet correspond to specific organs of the body, and these may hold anger, resentment and/or fear that will manifest as physical symptoms like soreness, tension and tenderness. Congestion in the spleen, for instance may represent issues relating to fear and a competent foot reader will be able to indicate this area on your feet and how the symptoms affect your everyday living. Long-lasting habits will also show up on your feet, as too will deep-rooted problems.
A foot reader will also be able to explain why you are prone to nail fungus infection – this concerns feelings of discomfort regarding thoughts – and what calluses and bunions mean.
How To Find a Foot Reader
Whilst foot reading, or solestry, is now a recognised complementary therapy there is currently no regulation in this field, which means that a therapist/foot reader may have undertaken extensive training or none at all. Contacting reflexology associations may help you find an experienced therapist or practitioner, although a referral is always recommended.
Some reflexologists may have extended their professional skills by offering a foot reading service. It is therefore worth enquiring, if you are interested in finding out more about solestry, when booking an appointment.
You might also like...