How to Choose a Podiatrist?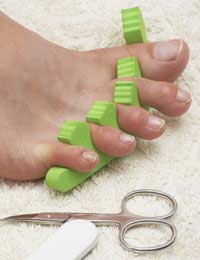 A podiatrist is a professional healthcare worker who's aim it is to improve the mobility and independence of their patients, by assessing, diagnosing and treating problems relating to the feet, ankles or lower limbs. If your physical problems require you enlist the services of a podiatrist it is important to find a professional who is competent, knowledgeable and caring.
Care A Podiatrist Must Provide
A qualified podiatrist must be competent at a variety of skills that include essential foot care, vascular and neurological assessment, wound management, physical therapy, nail surgery and palliative care. It is therefore important to establish a podiatrist's qualifications before considering their services.
Careful Considerations
The care you take over choosing a GP, or other healthcare professional, should be extended to the considerations you take into account when choosing a podiatrist. Getting the best care available, for you, should be your main priority and therefore it is worth taking the time to check details of the services and the providers on offer. Asking your doctor for a referral will enable your GP to recommend a practitioner who they feel will be suited to you and your personal needs.
You may also decide to ask friends and family members for their recommendations, although it is important to bear in mind that they will be making suggestions based on their own personal experiences. Searching for a podiatrist via a Directory or online search will provide you with a list of potential practitioners in your area. Calling them and asking for patient referrals, or references, will also help you decide whether or not the type of healthcare service that they provide is suitable for you.
Location Consideration
Registered podiatrists may work within a hospital environment or in the community. They may practice in an outpatient clinic or a surgery room at a GP's clinic. Some podiatrists also provide a mobile service and are able to treat patients in their homes. When choosing a podiatrist it therefore makes sense to consider personal needs and requirements. If a patient is restricted in mobility making appointments to see a podiatrist who is hospital based may prove problematic, whereas a home visiting professional will be more suited.
Making An Appointment
Once you have decided to check out the service a podiatrist provides you may wish to make an appointment with the practitioner so that you are able to see how they work and what level of healthcare service they offer. You should feel comfortable with the practitioner and the surroundings they work in, as this will impact on how you feel about the quality of the medical service you receive. Asking questions about your personal issues, the service available, the types of medical procedures on offer and any other considerations you may have will help you decide whether or not the podiatrist is the right person to take charge of your healthcare requirements. Your instincts will provide the best form of judgment so do not feel you have to accept medical care from a professional you do not feel comfortable with. Feeling good about the people who care for your needs will help you make the best personal decisions.
You might also like...