Podiatry and Chiropody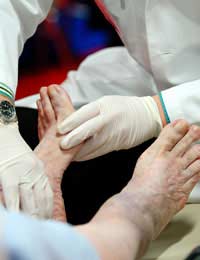 Traditionally called chiropodists but now becoming known as podiatrists these professionals are trained specifically to treat feet. Whilst this may not be very appealing to many, they offer a very beneficial service to the community as most people will, at some time, suffer problems with their feet.
Who are Chiropodists?
Chiropodists are trained professionals who help provide advice on good foot health and nail care and can also investigate, diagnose and treat many of the common foot ailments and disorders. They are particularly interested in preventative medicine and will try and foresee any potential problems advising and correcting before the damage is done. Many sports people benefit from regular visits to a chiropodist as they are highly prone to injury and stress to the feet and can be advised on how to prevent these issues from occurring.
What does a Chiropodist/Podiatrist Do?
Many people will visit their chiropodist simply for advice or to check feet are healthy, whilst others may be referred because of a specific problem.The chiropodist will assess and examine feet and, taking into account any medical history and current problems, will begin to plan treatment and recommend practices that may be beneficial to the patient.
A chiropodist can treat anything from a common verruca or corn, to more serious foot injuries and deformities, even carrying out minor surgical procedures.They can prove to be beneficial to those with circulatory problems or who are diabetic and can give treatments that other therapists are not permitted to carry out.
If needed, the chiropodist will refer the patient to another healthcare professional such as a GP or foot specialist in the event of a more serious problem or injury being diagnosed. They can prescribe and order insoles and orthotic devices and can ensure that a custom made device is used when needed and ensure that it is designed specifically to your needs.
Where do I see a Chiropodist?
Many chiropodists work within the NHS and can be recommended by your GP or Practice Nurse and work from a GP surgery, drop-in health centres, out patient departments or even within a hospital itself.Other practitioners have their own private practices and the treatments and prices offered can vary greatly depending on experience, location, type of treatment needed and reputation.
Many of the private clinics offer a wide range of treatments and therapies, some branching out into reflexology and aromatherapy, along side more clinical treatments such as cryotherapy.Many do home visits to those unable to visit a clinic or health centre, and again these costs may vary.
As chiropodists are fully professional and registered practitioners there is often no need to check training backgrounds, but if you are visiting a private clinic, it is advisable to find a reputable practice that is not too costly.
Chiropody, or podiatry, can be very useful in the prevention, detection, diagnosis and treatment of many foot disorders. By visiting a foot specialist, GP surgery can see other patients and you can be reassured that you are being treated by someone who is trained specifically in the treatment of feet.
You might also like...