Preventing and Treating Cracked Heels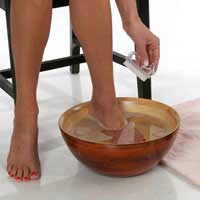 A source of great embarrassment and discomfort for many people, cracked heels are among the most common of minor complaints of the feet.
Causes of Cracked Heels
A crack, otherwise known as a fissure, is most often due to having excessive dry skin. Many people may simple be more prone to dry skin as the sweat glands in the feet do not produce as much excretion as they once did.
Cracked heels are more common in those who spend long periods of time wearing open backed shoes and sandals, so are therefore more commonly seen in women.
Sometimes the person may have a developmental disorder of their feet such as flat feet, an abnormal stride and step pattern or may have heels spurs, which can all cause problems with the heels including dry skin and cracking.
Being overweight or standing for long periods may also contribute to having dry cracked heels, as can smoking and diabetes, which can compromise the oxygen and nutrient supply to the tissues.
Signs and Symptoms
Often cracked heels are simply a matter of being a cosmetic issue and cause no other problems, but for others, especially if the crack has deepened, they can be fairly painful and cause distress to the sufferer.
Normally beginning as dry skin on the heels, the cracks can develop quite quickly. Sometimes they can be felt by running a finger along them, whereas others may notice them when they can hear them catching on the bedclothes or socks. It can be very tempting to try and solve the problem by hand and pick at the edges of the heel, but more often than not this will exacerbate the problem, causing the cracks to deepen and become increasingly sore.
Treating Cracked Heels
There are many products available from supermarkets and chemists that are designed to treat cracked heels. Some of the more reputable brands are very useful for correcting this problem.Using a pumice stone or other piece of equipment made for removing hard skin will prove very useful. Never try and remove the hard skin using other implements such as blades or scissors as this can cause infections and bleeding.
Preventing Cracked Heels
Try not to have bath water too hot as this can have a drying effect on the skin.
Apply a good quality moisturiser at least once a day to keep dry skin at bay.
Using a pumice stone or other device designed for eliminating dry skin can be very useful if a layer of hard skin has developed. Eradicating it before it can progress into cracks should help keep feet soft and smooth.
For those who like to wear sandals, keep their use to a minimum, and apply extra moisturiser on the days when they are worn.
If you have any existing foot conditions such as flat arches, wear an arch support device that will help to support the foot at all times.
Although cracked heels are not a serious condition they can be unsightly and cause discomfort for the sufferer. It is always best to try and prevent them occurring by treating hard skin as soon as it appears and by employing methods that will help to prevent the dry skin.
You might also like...