Pregnancy and Feet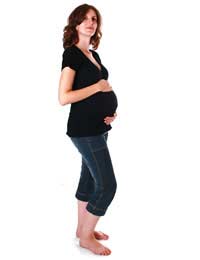 A pregnant woman will experience major changes throughout her body and the feet are no exception. Changes in weight, posture, balance and shape can all contribute to variations from the norm resulting in changes in the structure and mechanics of the foot.
What may Happen whilst I am Pregnant?
The most obvious and common change is to experience foot pain. This may range from being a dull ache or lead to more serious and difficult to manage pain.Increases in weight may mean that your feet are not used to carrying the extra kilos and may grow tired more quickly. Changes in posture and balance may result in the foot changing the way in which it would normally function, and flat feet may be experienced.
Swelling and burning sensations are also very common in pregnancy, not only due to a sudden increase in weight, but because of hormonal changes that cause a slight increase in body temperature.Many pregnant women report that their feet become hot and irritable as they grow tired and that this experience may cause them to stay awake, therefore adding to and prolonging the problem.
Other changes may include an inability to care for feet in the normal way. Most women find that by the end of their pregnancy, they cannot reach their feet sufficiently enough to carry out nail care of to deal with hard skin. Now is the time to treat yourself to a pampering session, such as a professional pedicure, as when the little one comes along, there may not be ample opportunity to do so.
How to treat Problems of the Feet during Pregnancy
Comfort is of the essence when you are pregnant, in order to ensure a smooth and enjoyable pregnancy, so good quality and comfortable footwear is essential. If your job requires you to wear heels, try a lower heel or wear flat shoes. Your employers have a legal responsibility to safeguard your health and well being and must allow for these modifications. Choose shoes that can expand with your feet, with either Velcro or laces as these can be amended to accommodate and swelling or spreading of the feet.If the arches of your feet are suffering and seem to be 'falling', it will be beneficial to try wearing shoes with a much supported arch, possibly including the use of orthotic devices or insoles to add cushioning and protection.
Ensure you take sufficient rest breaks during the day; when there is opportunity to elevate feet and help reduce swelling. If possible use a chair to work from, or reduce activities as your pregnancy progresses so you have plenty of time to elevate and rest the feet. This is not to say that pregnant women should sit down all day, as walking and swimming are both excellent ways of remaining active without causing stresses on the body.
Cooling foot gels, foot spas and regular bathing of the feet, followed by wearing open toed shoes when able will help to keep feet feeling cool and refreshed, with the aim of aiding a good night's sleep.Due to the additional stress put on feet during pregnancy, hard skin and nails could be dealt with either by a willing partner, or by a professional foot care specialist.
Foot health is very important to maintain during pregnancy, as your feet take the full impact of your increasing size and changes in posture. Following this advice will ensure you can enjoy your pregnancy without having to worry about your feet.
You might also like...
I found this article usefull , as am 5 and half months pregnant. And I do tend to experience burning feet sensation. This burnig feet sensation I felt it before pregnancy, when I was under going hormonal treatment for endometriosis. So I certainly agree that during pregnancy , the feeling could be due to hormonal changes that are taking place.
ruxy
- 13-Apr-11 @ 10:18 PM