Combating Foot Odour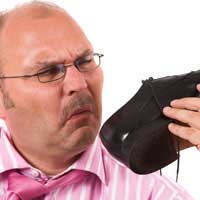 Suffering from smelly feet (bromohydrosis) can be a very embarrassing and a socially isolating problem.
There are a great many glands in the feet that secrete fluid containing water and salt; when this perspiration is left confined, not washed off or unable to be evaporated, the bacteria of the skin attack it and produce a malodorous substance.
Causes of Smelly Feet
The most obvious cause of smelly feet is due to poor hygiene practices whereby the individual fails to wash or change socks frequently enough. For many this is a simple problem requiring simple treatment.
For others however, the problem may be more problematic. Occupations that necessitate the need for individuals standing for long periods of time, or those who wear restrictive shoes or tights/stockings may all find they are more at risk of increased foot odour. Wearing shoes that are made from synthetic materials can increase the fluid produced and do not allow for absorption, substances such as plastic are not helpful in the incidence of foot odour.
Some individuals simply produce more fluids than others, therefore more bacteria will be able to build-up, which will turn sour, smelling after time.The amount and type of fluids drank, the external temperature, certain drugs and treatments received and hormonal changes can all add to the amount that a persons sweats.
Treatment of Smelly Feet
Feet should be bathed at least once a day, more if needed, using a suitable anti-bacterial soap. Drying is also important as fluid remnants can collect between the toes and can turn sour smelling very quickly.
Shoes that are ventilated in some way or are made of natural materials such as leather will aid evaporation and absorption.Cotton socks that are not too tight will help to absorb some of the fluid produced.
Use a foot spray, powder or lotion that is specially designed to combat foot odours.Using anti-bacterial shoe inserts will help to fight off bacterial collection.
Toenails should be kept clean and short, which will also help in the prevention of athlete's foot and fungal nail infections.If any itching or nail discolouration accompanies the foot odour, ensure that it is not because of a fungal infection. These can be treated using over the counter preparations.
If sweating is excessive (hyperhydrosis), and foot odour is very severe surgery may be necessary whereby the surgeon cuts the nerve responsible, this is often a permanent and very useful option. Occasionally electrolysis be used, this is less invasive than surgery, safer but can be expensive and not 100% effective in all users.
Prevention
Feet should be aired every day at least, if not more often, whenever possible to allow for sweat to evaporate and to prevent bacterial build-up.Change socks at least once a day, and alternate the shoes that are worn daily if possible.Loose fitting cotton socks will help to prevent bacteria and fungus from building up due to perspiration and will lessen the chance of foot odour occurring.
Often a cause of social embarrassment, foot odour can be prevented by most sufferers by making adequate changes to their lifestyle and hygiene practices. Many people do not have to pay much attention to their feet, whilst others will have to find ways of adapting different routines into their life in order to prevent foot odour.
You might also like...