How Reflexology Works Using the Feet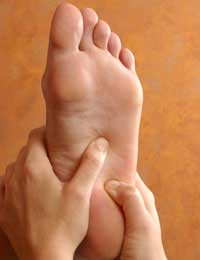 Reflexology is a therapy that has been practiced for many years. It aims to increase blood circulation, encourage the release of endorphins (the body's natural painkillers) and to stimulate nerves by applying pressure to certain areas that are thought to be related to other parts of the anatomy. It is commonly practiced on the feet, but can also be carried out on the hands and ears if necessary.
Theories of Reflexology
There are many theories surrounding the practice of reflexology and it has been used as an approved complementary therapy that can be beneficial to health. It is not suggested that it replaces conventional medicine, but can work in partnership helping to treat or reduce symptoms of illness, disease or act as a simple way of relaxation.
One theory suggests that tension and stress built up in the body can be dissolved by applying pressure to the many thousands of nerves held in the feet. This can help the body relax allowing for natural or medical healing agents to flow through the body and act to their optimal state.
Others believe that the massage and pressure help to dissolve uric acid crystal build up in the feet, reducing gout and promoting a good healthy blood supply to the area, allowing for tissues to become fully oxygenated therefore more functional.A more traditional theory surrounds the issues of unblocking natural energy channels in the body allowing for more aligned and smooth systems operations of the body.
What are the Potential Benefits of Reflexology?
Although there are no definite scientific facts surrounding the use of reflexology, there are numerous reports of it's benefits including, relaxation, stress reduction, refreshment, improved circulation and revitalisation of the body's energy.
What happens during Reflexology?
Initially, the reflexologist will require you to bathe feet in warm water to cleanse, relax and soften the feet. Following this the therapist will, using their thumbs, apply pressure to specific points on the soles of the feet that are thought to correspond with different areas of the body or for different reasons. In reflexology, the foot is divided into areas, which can be seen on a chart, and each of these areas, or zones, relates to somewhere else such as a specific organ or location in the body.They will be able to sense and feel problematic areas from tension built up in the foot and will dedicate more time the pressure to these areas.
Who Carries out Reflexology?
Reflexology practices can be carried out at home in the form of massage devices, roller balls or from using learn-at-home methods, but most people enjoy the benefits of receiving therapy from a trained person. Always ensure that you have carried out research on your chosen therapist as they may not be specifically trained and may purely be there for financial gain. There are many associations for reflexologists so ask if the person is a member of any and check their references.It is vital that you tell your therapist of any medical problems you might have as some illnesses and disorders prevent the use of reflexology.
You might also like...