Rough Feet Homemade Remedy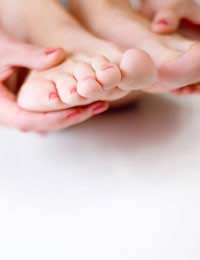 A homemade remedy can provide an effective alternative to a shop-bought product for many minor conditions and solutions. By using products and ingredients you probably already have in the home you are creating a cost-effective method of treatment that also provides good results. Treating rough skin on the feet, with a homemade remedy, therefore has many benefits.
A Traditional Recipe
Vinegar is an ingredient that is readily found in the kitchen cupboard and has been used for centuries as a remedy and cure. Whilst the vinegar foot soak requires a little time and effort the results are beneficial, especially if treatment is followed up regularly. Rough skin on the feet can be effectively treated by soaking them in a solution of warm water, one cup of white vinegar, mild washing-up liquid and a few drops of your favourite essential oil.
The vinegar, washing-up liquid and essential oil should be added to a bowl of warm water, in which you soak your feet for about 30 minutes. Rinse feet in warm water and dry thoroughly before applying a good quality foot cream. Wearing clean, dry socks will also provide deep hydration. Whilst the smell of this remedy may not be pleasant it is worth noting that the skin will not absorb the smell but will benefit from natural healing properties.
Baking Soda Application
As well as providing an effective method of removing rough skin on the feet, baking soda also offers a good means of eliminating foot odour. Mix one cup of baking soda with two gallons of warm water. Once the baking soda has completely dissolved soak your feet in the solution for 30 minutes. Rinse feet in warm water and dry thoroughly with a clean towel before applying a good quality foot cream.
Scrubbing Session
To aid the removal of hardened rough skin using a homemade scrub, perhaps alongside regular foot soak treatments, is recommended. Although commercial foot scrubs are readily available making your own homemade remedy is easy to do. You can make your own cream scrub base but it is far simpler to purchase a ready-made moisturising body lotion to which you can add the scrubbing, exfoliant ingredient before blending together and transferring to a clean jar.
Ground pumice, which is a natural volcanic rock, can be purchased at major craft shops. This substance is added to the moisturising cream or lotion and provides an effective method of exfoliating rough skin. If you are unable to find ground pumice you can purchase a chunk of pumice stone that can be pounded with a hammer. Care must be taken if doing this. Using sand, in place of the ground pumice, is also another option worth considering.
How To Use Foot Scrubs
You can apply a foot scrub whilst you are in the bath or after a foot soak. Work about a tablespoon of the scrub mixture into the hardened skin on the feet. Coat the feet from heel to toe and work the mixture into the skin in small, circular motions. Pay careful attention to areas that are particular dry, like the heel and big toe. Rinse off the scrub and ensure you dry your feet thoroughly before applying moisturising cream or lotion. Repeat the treatment regularly to keep hard, rough skin at bay.
You might also like...