What is Ayurvedic Footcare?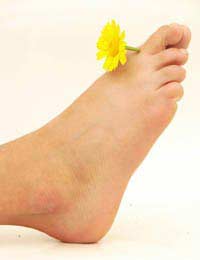 Ayurvedic practice acknowledges care for the whole body, and not just specific areas. Therefore an ayurvedic footcare regime incorporates care of the body, mind and spirit as well as the nervous system. In other words it is far more than a cosmetic service. Ayurvedic footcare provides both relaxation, revitalisation, enhanced circulation and an improved physiology.
Ayurvedic Foot Massage
The soles of your feet are highly sensitive receptors that provide access to internal organs via reflexology points. By massaging the feet you are in essence massaging your entire body. An ayurvedic foot massage can improve detoxicification, rebalance emotion and generally improve lymph drainage and blood circulation.
An ayurvedic foot massage begins by taking care over cleansing the feet prior to massage. After thoroughly washing and drying the feet oil is applied as lubrication. Starting at the base of the smallest toe, and working along to the big toe, a gentle rubbing pressure is applied before using circular motion on the ball of the foot. A combination of stretching, gentle pulling, rubbing and clockwise motion rubbing is then used all over the foot to raise energy levels in the body. Massaging tension out of the calf muscle provides the finishing touch.
Ayurvedic Foot Bath
Warm water stimulates tired feet and helps improve the condition of the skin on the feet. An ayurvedic foot bath aims to relax, revitalise and aid circulation through the use of herbs, salts and minerals.
To enjoy the stimulation of an ayurvedic foot bath gather a selection of herbs – including lavender, rosemary and sage – place in a muslin pouch and tie securely. Pour boiling water over the pouch you have placed in a foot-sized bowl, and allow to sit for twenty minutes. Check the temperature, and add cold water if necessary, before immersing your feet into the fragrant water. Soak the feet for twenty minutes or so and then gently rub the herb pouch all over your feet.
Dry your feet thoroughly with a clean towel.
Treatment and Prevention
Feet become smelly as a result of poor hygiene, perspiration and the build up of dead skin cells and bacteria. This problem can easily be overcome using an ayurvedic footcare regime. After soaking feet in a stimulating herbal foot bath a paste mixture of corn starch, herbalised clay and peppermint oil can be applied directly to the feet. The ingredients are mixed with a little water until the paste is of the correct consistency. The paste is then applied to the feet and left for 20-30 minutes. After this time wash the paste off using warm water and dry the feet thoroughly with a clean towel.
Corns and calluses can also be successfully treated by following simple ayurvedic principles. These thick, hard areas of the feet are caused by constant pressure and friction from footwear and can be painful and restrictive. Using a natural remedy like garlic is one ayurvedic treatment that is easy to follow. The garlic clove is roasted and when cool is applied directly to the hard skin area of the corn. It is then covered with a first-aid plaster and left on for a day. Once removed massaging the feet with oil will ensure your feet remain soft and supple.
You might also like...