Heel Pain Explained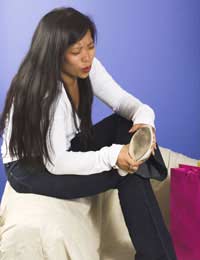 Heel pain can be used to describe any type of discomfort of the heel region of the foot. Symptoms can range from very sharp, acute pain to a dull ache or burning sensation, with episodes being both ongoing or temporary.
Causes of Heel Pain
There are many possible causes of heel pain, some serious others not so serious.General heel pain may stem from simply being on your feet all day, especially if footwear causes confinement of the foot allowing for heat and pressure to build up.Other causes may be from trauma and injury, either from over stretching the foot, or from standing on an object that has temporarily damaged the tissues of the heel.
The most common cause of heel pain however, results from a condition known as 'plantar fasciitis', which occurs when the plantar fascia on the lower side of the foot becomes in flamed, usually from being over stretched.This tissue joins at the heel and can become strained from either stretching the tissue too much, or from an abnormality of the foot's structure such as flat feet.
Treating Heel Pain
If the heel pain has resulted from an injury or trauma of the foot, examination should take place to ensure that a foreign body has not perforated the skin. If so the area should be washed and dressed as appropriate, possibly after medical advice, as treatment from a professional or anti-biotic therapy may be needed.
If you are experiencing heel pain following a hard day's work, it may be advisable to amend footwear if possible, or to ensure the removal of high heels or constricting shoes as soon as possible after a days work. Cooling gels and foot spa treatments may help to relieve some of the discomfort and burning that may be experienced.
If plantar fasciitis has been diagnosed, ice treatments, heat packs, anti-inflammatory and pain relieving medications may all be advised by your doctor, who will also probably suggest the application of orthotic foot devices that are designed to reduce the pressure on the heel, cushion the foot and provide support to the foot arch.
There are also specific exercises available that have been designed especially for this condition and these aim to increase the muscular strength and stability surrounding the foot allowing for a more supported anatomy that will be better able to cope with the stresses and strains put upon the muscles and joints of the foot.
If symptoms persist and these conventional methods do not ease the problem, it is important to seek medical advice to seek alternative diagnoses such as nerve damage or arthritis and to find out about alternative treatments such as steroid injections or the application of immobilisation devices such as plaster casts that allow the area to rest until the inflammation has subsided.
Heel pain can be a very uncomfortable experience for the sufferer and can be very short-lived or increase in severity over time. It is important to find out the cause of the heel pain so that it can be treated appropriately and prevented from recurring where possible.
You might also like...