Burning Feet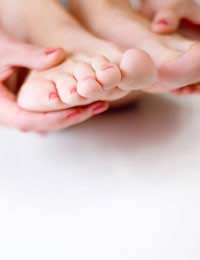 Many people suffer from the sensation of burning feet at some point in their lives. It is most often a non-serious complaint that can act as an irritant and prevent sleep but occasionally it can be a sign of a more serious condition that will need treating.It can be an acute problem, with the sufferer experiencing infrequent or singular episodes, or can be chronic where the sensations are present very often or even constant.
Causes of Burning Feet
People often experience burning or hotness of the feet as a result of being tired or of not taking enough rest during the working day. It can also be caused by common conditions such as athlete's foot, metatarsalgia or due to a mild allergy to fabric conditioners, detergents or the material of footwear or even simply from ill-fitting shoes.Other common reasons include being overweight, living in hot or humid climates or being stressed, which can lead to feelings of burning feet.
Occasionally it can be the result of more serious medical conditions such as nerve damage to the feet, because of damage to the vessels or nerves of the feet or due to underlying conditions of the blood. Excessive and prolonged alcohol consumption, disorders of the thyroid and severe obesity have also been found to be a cause of burning feet. It is very commonly experienced in those suffering from diabetes and this should be mentioned to the doctor as the diabetes treatment regime may not be controlling the condition as well as it might, and is can also indicate nerve damage that could lead to an ulcer developing.
Treatments for Burning Feet
The simplest treatment is to try and cool the feet by removing footwear and socks, perhaps with the use of cool water or fans to help try and reduce the sensation of heat in the feet and toes.As burning feet can be extremely irritating and distressing for the sufferer, especially if sleep interferences are being experienced, relaxation methods should be sought to try and alleviate some of the distress.
Most supermarkets, chemists and health and beauty shops stock a range of products aimed at reducing the heat found in the lower limbs and feet and many cooling gels can be beneficial in relieving the sensation.If the condition is prolonged or not alleviated by these simple methods, advice from your GP should be sought to determine if an underlying medical condition is to be blamed.A series of blood tests and questions may be required to find out if the burning feet are a symptom of another complaint.
Whatever the reason for the burning feet, rest, elevation, correctly fitting shoes, cotton socks and good foot hygiene practices should help to prevent or reduce the severity of the problem.
Burning feet can be a very annoying complaint for the sufferer, especially if it is a prolonged condition. It is important to try and determine the reason for this complaint, particularly if it has occurred repeatedly or continues continually for a long period of time as it may be a symptom of a serious medical condition that needs treating.
You might also like...
A condition like athlete's foot can create a similar sensation. It's very uncomfortable (speaking from experience) and itching it doesn't cool it off. The only real solution is using a cream, usually from a pharmacy, which can heal the skin. Short term treatments for burning skin can help, but the only real long term solution is to have the probably properly diagnosed and treated with antibiotics if necessary.
David
- 25-Jun-12 @ 9:33 AM