How Foot Pain Affects the Whole Body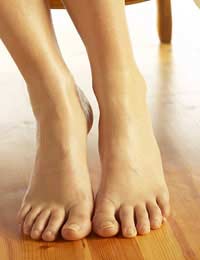 Foot pain and discomfort not only affects the pleasure we are able to experience when walking, exercising or enjoying other free movement, but can also affect the body as a whole. If your natural movement is compromised, due to experiencing foot pain, you will naturally adjust your posture, stride and movement in order to relieve pressure and discomfort. This in turn impacts on the stress and strain other body parts have to endure as they adjust to accommodate discomfort and restriction.
Listening to Your Body
Ignoring foot pain and discomfort can gradually result in the development of pain in other areas of the body. For instance, assuming lower back pain is caused by stress of movement due to exercise, poor sitting posture or excessive lifting, could mean you fail to spot the health link between the movement pain you experience and the actual source of the discomfort.
Feet play a hugely important role in our movement, posture and general flexibility. Every time your foot hits the ground your whole body has to adjust to the affects that impact on the feet and the spine. The greater the impact the more your body will feel this. Movements in exercise also increase the amount of stress the lower extremities experience, which results in a need for increased absorption of pressure by your body. Over time discomfort may develop in areas of the body that have experienced an increase in pressure, which results in pain.
The Importance of Alignment
Correct alignment of the feet is important in reducing pain and discomfort in other areas of the body. Progressive foot pain restricts movement and flexibility and hinders all physical activity in some way. Regularly checking your feet for pressure pain and discomfort, hardening of the skin, stress fractures and other injuries, and minor problems like blisters, will help you maintain a good level of footcare health that can prevent potential alignment issues developing.
By having your feet measured, along with an assessment of your gait and muscle strength, you are ensuring your feet are able to provide you with the level of support that your body requires.
Strengthening the Feet to Avoid Pain
The distribution of weight moves throughout your foot in a number of stages. Therefore it is important to strengthening the system that supports your body's weight and controls your physical movement and flexibility. Strengthening the feet, by doing daily exercises that gently increase circulation of the blood and flex muscles, bones, joints and tendons will help maintain your body's natural fluid movement.
Incorporating a series of simple arch stretches – where the toes are pointed and flexed – and releves – a slow, controlled movement that moves support from the heel to the toes – will strengthen ankle and arch support and increase muscle tone and flexibility in the feet. Taking a purposeful barefoot stride on the beach can also exercise and strengthen the feet.
Foot pronation, which can affect posture and movement, can also be successfully improved and corrected with corrective exercises that enable the muscles of the feet to realign, thus reducing pain and discomfort that impact on the rest of the body.
FOOT CARE EXPERT IS FOR SALE.
This website is for sale [more info].
You might also like...