High Heels: Do Gel Pads Work?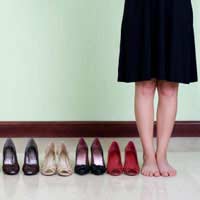 Most women will at some time in their life wear high heels. For many this occurrence will be for a special occasion, when socialising or when attending interviews or similar event whereas other women wear them everyday either through choice or because of their job.
Plenty of women feel comfortable wearing high heels but for some they can be a hindrance causing aches and pains that often prevents them form wearing them more often or taints a good night out.
Fortunately there are now aids available that aim to ease some of these discomforts and make wearing high heels a more pleasurable and safer experience.
What are Gel Cushions?
Gel cushions are devices that have been created to help relieve the discomfort that can occur from wearing shoes that put a lot of pressure on the feet, but were originally designed to help those suffering from some of the more common foot complaints.They are small cushions that are placed into the shoe often under the ball of the foot and usually contain a non-slip coating allowing them to stay in place for long periods.
How do They Help to Make Wearing Heels More Comfortable?
The device is a small gel filled cushion that aims to relieve the pressure placed on the ball of the foot which is a common experience when wearing high heels. Often this pressure can manifest as burning and acute throbbing which often lasts for longer than the period of time in which the shoes were worn.
The nature of these shoes forces the weight of the body to be centralised on the ball of the foot which after a time can become very painful. The cushion absorbs some of this pressure before it is transferred through the foot and onto the hard and uncomfortable shoe lining.
They are excellent when having a night out or for regular use by those who wear heels regularly.
Where can I Get Them From?
When they were first created, gel cushions could usually only be found in the more well known chemists or pharmacies but now with increased public usage they can be found in most of the mainstream supermarkets and in other retail outlets such as shoe shops, your local convenience store or sometimes in clothes shops too.They do vary in price depending on the shop in which they are sold or from varying manufacturers but will normally cost on average £5 per pair.
Other Benefits from Gel Cushions for Shoes
Not only are they great for relieving the discomfort of wearing high heels, but gel cushions can be used in other forms of footwear and can help relieve pain from corns, calluses, heel spurs and other common foot complaints, in fact this is what they were originally designed for.Some brands contain ingredients that help to soothe the feet or substances designed to soften hard skin from corns or calluses as well.
Many people take their feet for granted but it is important to look after them as they have to support our weight for our whole life. Using items such as gel cushions can help prevent pain but also make help alleviate or even prevents some of the more painful but uncomfortable foot complaints from occurring.
You might also like...