What is Club Foot?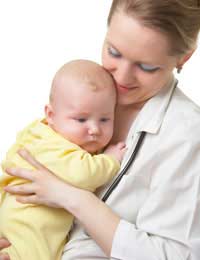 Otherwise known as Talipes, club foot is a congenital disorder diagnosed during an ante-natal ultrasound scan or at birth. It can affect anyone from any background, can be seen in either one or both feet and tends to affect males more than females.
What Exactly is Club Foot?
Club foot is a term given when the baby's foot carries a different position to the other and that that is expected as normal. Most commonly the foot points inwards and downwards but occasionally it can be seen to be directed outwards. The foot arch is usually more pronounced and there are often more creases on the sole of the foot than in those without the deformity.Sometimes the limb can appear shorter or smaller than the other, (if it affects just one foot) and the foot and ankle can be rigid with little scope for movement and flexibility.
What Causes Club Foot?
For many the cause of this condition is unknown, though experts continue to research into the area of genetics and its links with other medical conditions such as spina bifida.
Treatment for Club Foot
It is essential that the condition is not ignored as, if left, abnormal foot growth can occur, leading to problems with corns, calluses and in-growing toenails along with problems walking and finding foot wear that fits and is comfortable.
Treatment for club foot can be as simple as a course of physiotherapy or can involve the use of plaster casts or surgery.Physiotherapy aims to treat the condition by manipulating the foot and increasing the scope of movement eventually persuading the foot into a normal position. It usually begins around three months after birth and can be highly successful for many children.
Plaster casts aim to realign the foot by manipulating the foot into a more normal position then fixing that position with a cast causing the foot to grow into the required position.The cast is often worn for several hours a day and can become uncomfortable or sore for the child. It may be necessary for the child to wear the cast for several months or years, followed by the use of braces and supports once the cast has been discontinued.
Surgery is another option for those with club foot, though this is usually not recommended in newborns and the child will often have to wait until they are over six months of age. During the operation, the surgeon will assess which tendons muscles and ligaments have caused the Talipes and will then decide which ones to stretch or cut in an effort to allow the foot to assume a normal position.
As with any surgery, it is fairly invasive and carries risks of wound infections and anaesthetic risks and full discussion of all options will be required before a treatment decision can be made.
Club foot is deformity of the foot or feet that affects newborns irrespective of background. It should be treated at a young age, as if left to try and correct itself, can cause major problems for the person in later life.
You might also like...