Flat Feet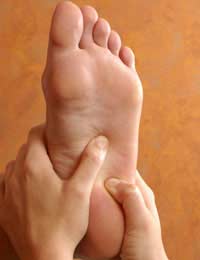 Most people will find that they have a raised space between the ball of their foot at the big toe joint and the heel of the foot. This is the normal anatomy of the foot and is called the 'arch' of the foot. Occasionally this arch is very low or even missing, and the foot is flat to the floor from toe to heel, this is a condition known as flat foot.
Flat Feet in Children
Flat feet is often diagnosed in childhood as many babies appear to have 'fallen arches' due to the deposition of fat around the foot leading to an appearance of flat feet. It cannot be properly diagnosed at this point and until bones, muscles, ligaments and tendons have grown and developed in childhood, it cannot be clearly identified.
Children who suffer from flat feet may tend to walk on the outer edges of their feet in order to prevent their steps from causing them to fall or lean inwards to the inner aspect of their foot. It is not a particularly serious condition and may only cause pain and distress if the child is running, so other forms of activity such as swimming should be encouraged to maintain a healthy lifestyle. Over time flat feet can encourage poor posture to develop that can lead to back pain in later life or the formation of heel spurs which are fragments of bone found on the heel of the foot sometimes causing a great deal of pain.
Flat Feet in Adults
Age, weight and hormonal changes may all increase the chances of developing flat feet, and once it has occurred, it may not return to its former state regardless of interventions.
Causes of Flat Feet
There are a number of causes of flat feet including a hereditary link meaning it is passed through the generations. It may also occur due to other conditions such as spina bifida, cerebral palsy or conditions of the muscular skeletal system. Occasionally it may be due to mechanical problems, either long-term developmental problems of the foot, or from injury to the tendons of the region.
Hormonal changes during pregnancy may cause the tendons and ligaments to slacken resulting in flat foot, and even after delivery of the baby, the ligaments may not tighten to their previous state and the flat foot may remain.
Treating Flat Feet
If flat feet are diagnosed or suspected in children, there is a range of shoes inserts available that aim the support and encourage the correct development of the arch. These need to be selected and fitted accurately and changed as the foot grows, so advice from a professional is advised in order to choose the most beneficial option.
For adults, the arch of the foot may remain flat despite exercises or stretching routines that aim to lengthen and strengthen the muscles as the anatomy of the foot is fully developed and the muscles are not long enough to retrain them to a different shape.Often a supportive shoe or the use of an orthotic device is all that is needed in the treatment of this complaint.
Flat feet can be a common but unserious complaint that can develop in childhood or in adult life. It cannot often be corrected and the use of supportive devices can be used to help alleviate the symptoms or prevent the condition from worsening.
Foot Care Expert is sponsored by Purely Energy, who have funded a lot of our content. If you are looking for a low cost business energy supplier, take a look at their website.
FOOT CARE EXPERT IS FOR SALE.
This website is for sale [more info].
You might also like...