Blisters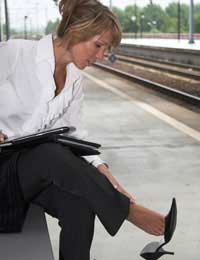 Blisters very commonly affect the feet and can cause a great deal of pain and discomfort. Occurring at any age, at any time and can be of any shape or size, blisters can cause infections to develop if they are not treated properly.
What Exactly is a Blister?
A blister is a fluid filled pouch that occurs as a result of continued rubbing, or friction, to the superficial layers of the skin. They are essentially friction burns, and cause the layers of the skin to separate, allowing for collection of lymphatic fluids between the layers.
When do they Occur?
As they are caused by friction, blisters are more likely to develop when new shoes are being worn in, ill-fitting footwear, inappropriate or poorly fitting socks, or because shoes are worn for long periods of time when feet can become hot and swollen and not fit the shoe as they initially did.Certain illnesses such as chicken pox can also cause blisters to develop, as can sunburn; these complaints will need treating differently from the common blister caused by footwear.
Sign and Symptoms
To begin with, a potential blister may appear as a slightly red and tender area. To avoid a full blister developing, it is important to remove the source of the problem, normally the shoe or the sock.As the blister develops, the skin can become tight and sore as the fluid pouch fills. The fluid is normally straw coloured, though blisters filled with blood can occur also.Inspect the area for signs of infection such as increasing redness, pus like collections and the area becoming hot to touch.
Treating Blisters
Initial treatment of a blister is to remove the shoe and sock from the affected area. Inspect the blister for signs of infection and clean the skin gently with clean, warm water and soft cotton wool or gauze.
Never burst the capsule of fluid as the skin acts as a barrier to infection. If the blister does burst, leave the skin intact and keep it clean and dry. Pad the area with gauze and amend footwear until it has healed.
Prevention of Blisters
The simplest way of preventing a blister is to ensure shoes fit correctly. When running, hiking or expecting to wear shoes for long periods of time, always wear the most appropriate shoe for the task.
If you have problematic areas such as bony prominences, foot deformities or are prone to blisters in certain areas, try wearing a protective plaster over the area, which can be bought in chemists or supermarkets. They come in a range of shapes and sizes and can be amended to fit your needs.
When wearing socks, ensure they are washed and dried properly and are not too hard to the touch. Make sure seams do not rub the skin before putting on shoes.Use a foot powder to keep feet dry and refreshed helping to prevent heat from building up in the foot and the foot swelling.If shoes do seem a little tight, there is equipment available. Mainly from shoe heelers/cobblers that is designed to stretch the shoe normally overnight to help it fit better.
Although they are not a serious threat to health, blisters are very painful and can prevent normal activity, so it is recommended to try and prevent them occurring in the first place.
You might also like...