Peripheral Edema: Swelling in the Feet and Legs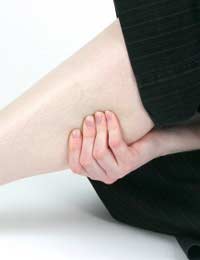 From time to time many people suffer from slight Peripheral Edema, or swelling of the ankles, feet and legs. This generally occurs in hot weather, during pregnancy or in the elderly. This type of fluid retention is a temporary effect, but in some cases there may be cause for concern.
What is Peripheral Edema?
The painless swelling that is sometimes experienced in the ankles, feet and legs is known as Peripheral Edema. Although swelling is generally located in these areas, from time to time it can also spread to the calves and thighs.
If you suspect you may be suffering from this form of swelling there are a number of things you should check. Do you have swelling at a particular time of day – first thing in the morning or in the evening? What makes the swelling worse? Does the swelling reduce on elevation of the legs? Do you have any other symptoms? The answers to these questions will help your GP, should you require medical attention.
Possible Causes
Standing for long periods of time, a long car or plane journey, an injury to your foot or ankle or an increase in age can all contribute to swelling in a localised area of the body. Women who are menstrual or pregnant – although excessive swelling in pregnancy can lead to a serious condition called pre-eclampsia – may also experience swelling of the ankles, feet and legs. Being excessively overweight also increases your chances of developing Peripheral Edema.
There are also a number of other possible causes, which include the possibility of the sufferer having a leg infection, insect bite or sting, blood clot, varicose veins or venous insufficiency – when your veins are unable to pump blood back to your heart. Leg swelling can also be a sign of kidney, heart or liver failure,
Certain medications, particularly steroids or blood pressure lowering drugs may also increase swelling.
When Should You Contact Your Doctor?
If you begin to experience a tightening in the chest, or become short of breath, you should ring for an ambulance straight away. Your GP should be contacted if you have a history of liver disease, you currently have a fever, have decreased urine output or the swelling is red and hot to the touch. If you are pregnant and have increased swelling it is also important to check with your doctor.
Your GP will be able to perform diagnostic tests that may include an ECG, blood test and/or X-ray.
Prevention
When travelling it is important to minimise the length of time you spend sitting still without movement. Stretching your legs and walking for a few minutes, particularly when flying, will help reduce swelling in the legs, feet and ankles. If you are driving long distances, taking a break will not only reduce swellings but also help combat tiredness. Elevating your legs will greatly reduce the swelling, as too will gently exercising your legs and wearing support socks. Reducing salt in your diet may also help.
Regular exercise will also maintain good health and will encourage you to keep a check on your weight. Wearing loose, comfortable clothing at all times will also stop any restriction, and will therefore limit swelling.
You might also like...