Minimising Foot Swelling During Pregnancy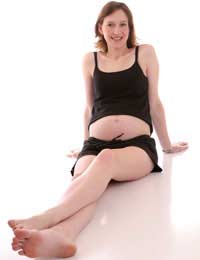 Pregnancy puts a considerable strain, not only on the body, but also on the feet. Due to the extra weight you are carrying your posture and natural gait may become compromised. Supporting the distribution of the additional weight will mean that more pressure is applied to your feet, and this in turn may create foot problems caused by swelling, pain and discomfort.
What Causes Swelling?
Peripheral Edema – swelling of the feet and ankles – is a common occurrence during pregnancy. It can be made worse by prolonged periods of standing or sitting, increased activity and a diet that is low in potassium and high in sodium and caffeine. Because a pregnant woman's body accumulates more blood and fluid, to aid the development of the growing baby, swelling may occur in the feet and ankles. This type of swelling can be mild or painful.
Swelling, which occurs as a result of excessive fluid retention, is caused by the application of increased pressure on the veins of the legs. This slows down circulation and the ankles become inflamed when blood pools in this area. Swelling during pregnancy may also affect the legs, hands and face, If severe swelling occurs it is important to seek medical advice, as this may be a sign of the onset of pre-eclampsia, which is a severe disorder that is characterised by high blood pressure and swelling.
Treating Painful Swelling
Taking plenty of rest breaks during pregnancy is the quickest way of minimising ankle swelling. Elevating legs and ankles, ideally above waist height, can considerably reduce uncomfortable pressure on the ankles, Taking care not to bend knees too sharply will also ensure blood circulation is flowing and not accumulating.
Sitting or standing for long periods of time may also increase the risk of swelling so it is important to take regular mobility breaks. A short stroll will soon encourage circulation. Gentle exercise, like yoga, can also be beneficial as the stretches will ease discomfort and encourage circulation.
Treating the retention of excess fluid by water immersion is another way of minimising swelling during pregnancy. Enjoying a gentle aqua aerobics class will help you maintain mobility whilst enabling the body to shed excessive fluid through the kidneys.
Preventing Swelling
To prevent potential swelling of the feet and ankles, during pregnancy, wearing comfortable footwear is a must. Fashionable heels do not provide the perfect fit for puffy feet and ankles and will further hinder posture, weight distribution and movement. Wearing comfortable shoes that allow your feet sufficient space to breathe and flex will help keep swelling to a minimum. If swelling becomes uncomfortable wearing support tights may help reduce symptoms and relieve pressure.
Regular gentle massage of the feet and lower legs not only relaxes and rejuvenates tired areas but also helps combat swelling. Drinking 8 to 10 glasses of water a day will also maintain hydration levels and flush out excessive sodium. If bloating continues after taking these precautions it is important to seek medical advice as soon as possible.
You might also like...