Combating Sweaty Feet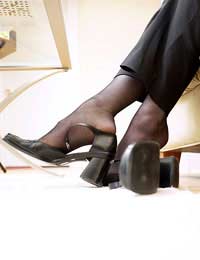 Feet contain as many as three million sweat glands, so it is not surprising to find that from time to time they can smell less than fresh. Sweaty feet however, are often considered to be an embarrassment and, if left untreated, they can lead to health problems.
What Causes Sweating?
Plantar Hyperhidrosis is the medical term for excessively sweaty feet. There are genetic, inherited reasons why an individual has sweaty feet. This is usually the product of having an overactive sympathetic nervous system that throws the body's temperature off balance.
Living in a damp and hot environment can affect the amount an individual sweats, and suffering from nervousness, depression or stress can all also increase the chances of your sweat glands becoming overactive.
If you are overweight, have high blood pressure or diabetes excessive sweating can cause a problem. The key to combating sweaty feet is keeping them dry and sweat-free. Failure to maintain good hygiene standards however, could result in Athlete's Foot and other fungal infections.
Primary Hyperdrosis
Excessive sweating that is not caused by a medical condition, or by the use of drugs an individual has been prescribed, is known as primary hyperdrosis. It is also known as focal hyperdrosis, when sweating affects one particular area of the body, for instance feet.
Health Problems
If your feet sweat excessively, and you maintain a poor level of personal hygiene, you are at risk of health problems and infections. Hyperdrosis sufferers often develop fungal nail infections, athelete's foot and in some cases, warts. Sweaty feet can also be prone to bacterial infections that form around hair follicles or between the toes.
How to Treat Sweaty Feet
To combat excessive sweating eating foods that promote urinary health will encourage the dispelling of heat and dampness inside the body, and will also improve circulation. These foods include pumpkin, corn, green beans and barley.
Wearing well-ventilated footwear and cotton socks will reduce sweating considerably. Washing your feet regularly with anti-bacterial soap, and thoroughly drying them with a towel, will help reduce sweating, whilst bathing sweaty feet in green tea may also get rid of nasty smells.
Spraying feet with a refreshing, natural antiperspirant is a good idea. However, make sure you always wear a clean pair of absorbent, cotton socks and sprinkle a little foot powder into your shoes before wearing them as this will also help minimise sweating. Not wearing the same pair of shoes on consecutive days is also recommended.
Medical and Surgical Methods
In order to cure excessive hyperhidrosis some people are opting to try Botox injections. Although Botox has successfully been used to provide relief from excessive underarm sweating, it has not been tried to remedy sweating on other parts of the body.
Iontophoresis is a surgical procedure that involves administering mild electrical currents to the areas of the body that are affected by excessive sweating. In the case of feet, the currents would be applied in order to thicken the skin so that the flow of sweat is blocked from reaching the skin's surface. Although effective this extreme method is not a suitable remedy for pregnant women or individuals who suffer from heart problems or epilepsy.
You might also like...