Chilblains and Feet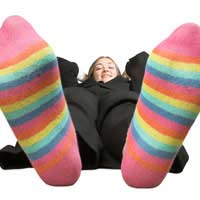 Chilblains are commonly found on the extremities of the body such as the fingers toes, ears and nose and occur as a response to the cold weather.
What are Chilblains?
Chilblains, otherwise known as pernio, appear as small lumps on the surface of the skin and can be itchy red and irritating for the person. They are very common and rarely cause any long-term problems and are seen as a minor ailment that is more of a hindrance to the affected person than a condition.
What Causes Chilblains?
The actual cause of chilblains is not very clear. It is thought that some people are more prone to suffering extreme reactions to the cold than others. The tiny blood vessels found in areas such as the fingers and toes narrow in the presence of cold weather, this is a normal occurrence, but for some the reaction may be extreme causing the tissues to react by becoming raised, itchy and red.
It has been suggested that the speed at which the temperature changes plays a role in the development of chilblains, and that they are more likely if temperatures alter very quickly rather than gradually.
Signs and Symptoms
As mentioned, chilblains appear as small raised areas of itchy red lumps. It is thought that this reaction is due to inflammation and because of a decrease in blood supply. The surrounding areas may appear discoloured due to a reduction in oxygen to the area as the vessels constrict.
Sometimes the small lumps can appear in great numbers resulting in them joining together and a single large raised area occurring.The area can be sore or painful and in some cases can blister as the skin integrity is compromised.
Chilblains usually resolve after a weeks, unless the skin has broken and a sore has developed which may take longer, especially in those with certain other medical disorders.
Complications of Chilblains
As they are not considered to be a serious ailment, chilblains carry little risk to long-term health. Those who suffer from underlying medical conditions such as vascular disease, when the arteries become narrowed, or diabetes are more at risk of complications and should avoid environments where fast temperature changes may occur or take reasonable precautions to avoid sores and ulcers from developing, which may become very difficult to treat.
Treating Chilblains
The best way of treating chilblains is to keep the area protected and warm. Rubbing hands together or gently massaging feet will encourage the blood supply back to the area aiding the recovery of the tissues.
Anti-inflammatory creams and lotions may be indicated in prolonged episodes or in those who suffer from frequent bouts of chilblains. These preparations will help to reduce the redness, itching and swelling of the skin.
Preventing Chilblains
The best method of preventing chilblains is to keep the extremities warm. Wearing extra thick socks during the cold weather or whilst participating in activities such as ice-skating may be all that is needed.
If you are prone to attacks, you should always take extra precautions and wear suitable clothing and be aware of times when the cold can affect you such as when driving, shopping or walking and the extremities are exposed to cold weather and surfaces for long periods.
Chilblains are a common complaint and often will cause no long-term damage to the body and are considered to be a minor ailment. They may only become problematic in those who have other medical conditions.
You might also like...