How Gout Develops and Treatment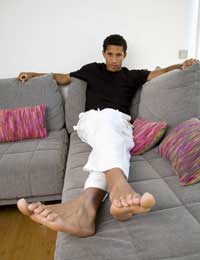 Often called the 'rich mans disease' gout is also known as metabolic arthritis and is due to a metabolic disorder of a compound found in the human body called uric acid.It tends to affect men more often than women and is rarely seen in children and young adults.
How does Gout Develop?
In a normally functioning body, uric acid travels through the blood and is processed by the kidneys, being excreted in the urine. For those with high levels of uric acid in the blood, certain blood disorders, kidney problems or because of dietary issues, the uric acid can build up and collect in the joints causing an arthritic inflammatory response.
There are many risk factors that may increase the chances of developing gout such as alcohol content, existing medications, age, sex, family history or due to previous or existing illnesses.
Signs and Symptoms
Most commonly occurring in the big toe, gout can also be present in many of the other joints of the lower leg and usually begins with a burning sensation and stiffness of the joint. This pain progresses as the inflammation causes redness, swelling and acute attacks of discomfort as the build up of uric acid crystals accumulate in the joint. As inflammation continues, body temperature may increase and the affected area can become sore to touch.The bouts of this condition often start in short episodes lasting around a few hours, but can increase in duration and severity over time, sometimes causing pain for days at a time.
Treatment for Gout
Conservative treatments that can easily be achieved at home include allowing sufficient rest time for the joint, including elevating the affected limb, preferably above heart level to help reduce swelling and encouraging the fluid away from the joint so it can be returned to the kidneys for processing.
The use of ice packs can be beneficial to help reduce temperature, redness and swelling, but be careful not to apply ice directly to the surface of the skin by wrapping the pack in a fabric protector such as a towel or pillow case.
If your symptoms cannot be controlled by these methods please see your GP who may recommend some anti-inflammatory medications along with pain relief; in extreme circumstances the use of steroid treatments may be suggested.
Preventing Gout
In some circumstances the chances of developing gout can be reduced by simple consideration to some dietary issues.A diet low in alcohol, fat and purine can help to reduce the likelihood of having high levels of uric acid in the blood. Purine is a naturally occurring substance found in foods such as sardines, some types of mushrooms and offal so these items should be avoided or consumed in limited qualities.
Drinking plenty of clear fluids each day will help to reduce the concentration of uric acid in the blood and will ensure the kidneys are kept flushed through and functioning well.Effective treatment of any existing illnesses will help to reduce the development or severity of gout and this should be discussed with your GP to ensure that you are receiving the most appropriate treatments for any other ailments.
Regular exercise, especially when an attack is not being experienced, will help to keep the joint mobile and also increase circulation of blood to the joint, which will help to carry and uric acid build up away from the area.
Gout can be a very painful condition for the sufferer and steps should be taken to try and reduce the chances of it developing, often with lifestyle changes being sufficient to reduce it.
You might also like...