What is Foot Drop?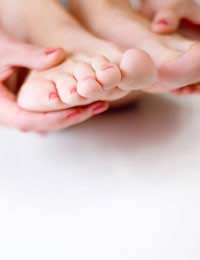 There are many foot problems that present a temporary discomfort or debilitation. Some cases can result in permanent damage with conditions impacting on general movement and also walking. Foot drop, or drop foot as it is also known, has many known causes and can create movement restrictions that may be temporary or more permanent.
Movement Restrictions
If a foot presents a condition that creates a limp-like movement and causes walking difficulty, foot drop will be diagnosed. This condition causes the person to lose the ability to raise the foot at the ankle, which will therefore affect normal movement. The foot may feel and appear floppy and will be difficult to position. In order to resume movement and normal walking the foot will have to be lifted high to allow room for the toes to clear the ground. This exaggerated clearance movement is known as steppage gait.
Common Causes
There are many causes of foot drop. The most common cause is injury to the peroneal nerve which is situated in the area behind the knee, at the top of the calf. Compression of the peroneal nerve will result in damage to the tibialis anterior muscle which supports and lifts the foot. Parkinson's Disease, Multiple Sclerosis, muscular dystrophy and amyotrophic lateral sclerosis may also increase the chances of foot drop developing. Foot drop can also be associated with stroke, diabetes, lower pain back and spinal cord compression.
What a Proper Diagnosis Involves
In order to properly diagnose foot drop a patient should receive a comprehensive assessment of their condition. This will include assessment of symptoms, a full medical history, physical and neurological examinations and a MRI (magnetic resonance imaging) check. Before a suitable treatment plan is arranged a spinal specialist must be able to determine the cause of the condition.
Steppage Gait
An extreme change from normal walking is considered a gait abnormality. This type of abnormality is compensated for by exaggerated movements of the foot that create continual motion and a modified stepping action. For instance, a foot may be raised higher to allow the toes to make comfortable contact with the ground, or the foot may be dragged. An exaggerated movement will also ease any pain in the hip flexors and knee area.
Walking abnormalities are unusual and will generally highlight a physical problem of some sort. Ensuring that a proper diagnosis is given before any treatment is offered is essential.
Possible Treatment
Straps, splints and shoes that mimic the natural movement of the ankle are available and can help patients with foot drop regain mobility. A plastic brace, or ankle-foot orthosis, will also provide necessary support and position the ankle and foot correctly. The orthosis product fits into the shoe and supports and stabilises the ankle and foot. A patient may also need to undergo gait training so that they are able to walk in a comfortable manner.
In more extreme cases surgery is an option, and this may involve decompression and nerve grafting or transfer. Where foot drop is caused by nerve compression a spinal surgical procedure, which requires disc removal, may be necessary in order to relieve the damaged nerve.
You might also like...
I had total knee replacment surgery 5 weeks ago. After this surgery I have complained to all involved that something is wrong with my foot. My foot is very painful with shooting pains, and stabbing pains in my heel, my heel is now numb. I had no foot problems befoer the operation, I also feel as if I am walking on lumps on the sole of my foot. I also feel there is a tear in the soul of my foot. Could this be nerve damage due to the surgery. KIndest Regards George Henderson
Cush
- 28-Aug-12 @ 5:15 PM