Raynaud's Disease and Feet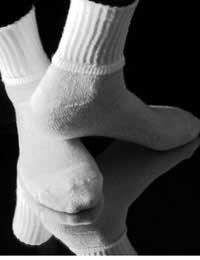 Raynaud's disease is a condition that affects the extremities of the body, commonly the hands and feet, and causes an extreme response to cold and stress.
What Causes Raynaud's Disease?
Raynaud's disease can occur on it's own or as an effect of another underlying medical illness. The blood vessels of the affected area can become constricted, usually as an over reaction to environmental factors and this can seriously reduce the blood supply in the vessels to the affected areas.Narrowing of the vessels in the extremities is a natural response to the cold, but with Raynaud's this response is greatly increased so much so that the blood supply can be discontinued altogether.
Raynaud's disease may be the result of other medical ailments or because of existing medications. All side effects should be discussed with your GP to find out if an alternative treatment can be sought, or to treat existing illnesses.
Signs and Symptoms
Due to the lack of blood supply and therefore oxygen to the area, such as the toes, the skin and tissues can take on a dusky appearance and can appear yellowed, white, grey or blue. The feelings in the toes can be reduced and sometimes sensation lost altogether. Feelings of pins and needles are common along with a burning sensation when the blood supply returns.
It seems to affect women more frequently than men and each attack can last a different length of time than the previous incidence. Sometimes the symptoms continue for more than an hour, other times it can be resolved in a matter of minutes. It may affect different digits or differing areas of the body during each episode and can vary in severity each time.
Complications of Raynaud's Disease
For those who have underlying medical conditions such as peripheral vascular disease or diabetes, Raynaud's disease may prove to be very problematic. Reduced sensation can result in trauma occurring to the area after standing on a sharp implement such as a piece of glass or a needle, which can result in an injury being experienced without the person's knowledge. If left untreated, this can easily turn into an ulcer, which can be difficult or even impossible to treat successfully.
Severe Raynaud's can lead to deformities occurring as the tissues do not receive an adequate amount of oxygen and nutrients allowing for normal development and function.If the blood supply is compromised for a long time, the tissues can begin to deteriorate resulting in necrosis or tissue death that can be permanent and lead to the area dying entirely requiring amputation.
Treatment Options
As Raynaud's disease is often only a minor complaint carrying no serious side effects, treatment option can usually begin at home. Looking after the extremities by wearing adequate protection and clothing may be sufficient to keep the areas protected.Good hygiene and care practices will help to prevent deterioration of the tissues during an attack.
Occasionally your GP may recommend medication to help and keep the blood vessels dilated especially during the winter months, along with reviewing of existing medications to ensure they are not aggravating the disorder.
Raynaud's disease is a potentially, though not often serious disorder causing the extremities of the body to have an exaggerated response to the cold or to stress. It usually causes no long-term problems unless the person has an underlying medical condition.
You might also like...