How Does Diabetes Affect the Feet?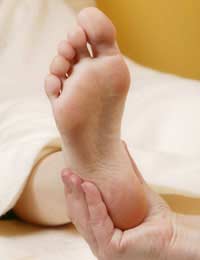 The subject of diabetes is a vast one that continues to be researched, with new developments made all the time. Affecting many areas of the body, diabetes can have a resounding influence on the health of feet and extra special care of the feet should be taken in the presence of diabetes.
How Does Diabetes Affect The Feet?
Over time, having altered blood sugars can affect the nerve pathways within the feet. This can lead to a reduction in the sensation felt, usually starting with the toes and spreading towards the rest of the foot. When this occurs any trauma to the foot may not be felt, for example standing on a pin or piece of glass can occur and the person may not be aware of it. This greatly increases the chances of a wound infection developing and an ulcer occurring. Diabetes does not only affect the nervous system of the feet, the blood supply can become compromised also. The arteries of the feet and legs can become narrowed by fatty deposits causing a reduced blood supply to the foot and toes. Therefore, if any trauma does occur, even from something as minor as a blister, a wound can develop that may not have the ability to heal as normal.
Once a foot ulcer has developed, it can be very difficult to treat and can lead to a serious change in lifestyle for the person, with a possibility of surgical intervention and even amputation if the tissues are not treated as soon as an ulcer develops.
What Increases the Chances of an Ulcer Developing?
As with any person, diabetic or not, a diet high in fats and those who smoke significantly increase their chances of their arteries becoming narrowed. It is vital in a diabetic person that a healthy lifestyle is chosen to help prevent complications such as ulcers in the future. As soon as any degree of reduced sensation is experienced, medical advice should be sought to help prevent further deterioration of the nerve supply. Those who have been diagnosed for over ten years, or are past middle age also have a greater chance of developing ulcers.
Preventing Foot Ulcers
Always make sure that you have your feet measured to find the most appropriate shoe size for your foot. Shoes that are even the slightest bit loose or tight can cause blisters and sores
Attend a chiropodist often to ensure professional treatment of corns and calluses. Do not try and treat them your self as injury may occur that will not heal properly. Ask the chiropodist to trim nails and assess for levels of sensation. This will be done by checking the response to pressure applied to different areas of the foot. The chiropodist will be able to assess better than can be done at home
Always protect feet by wearing slippers or sandals even when at home. Not allowing bare feet to come into contact with the ground will significantly protect them from damage
Any signs of discolouration or altered sensation should be assessed by your GP who will be happy to refer you to a specialist if needed
Diabetes is a common condition affecting many people. It is a complex illness and can affect the body in many ways including the health of the lower limbs. Prevention and protection are key elements to maintaining good foot health in the presence of diabetes.
You might also like...