Athlete's Foot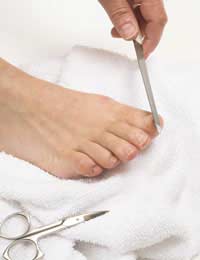 Athlete's foot occurs as a consequence of a fungal infection caused by the ringworm. It can affect anyone of any age but is more commonly seen in children and young adults.It is highly transmittable and can pass from foot to foot or hand to hand, to others or can cause fungal infections of the nail. The fungus thrives in warm and moist conditions so will enjoy feet that are hot and sweaty, cooped up in tight, non-breathable shoes, or in warmer climates.
Signs and Symptoms
Athlete's foot causes itching of the feet especially between the toes and can also cause a burning sensation of the feet. The skin can become dry and flaky, sometimes developing redness, cracked skin and very rarely, bleeding.If the infection spreads to the toenails, they can become thickened and toughened with discolouration of the nail.
Treatments for Athlete's Foot
There are a great many choices available for the treatment of athlete's foot, with most supermarkets and chemists stocking a variety of powders, creams and sprays containing anti-fungal ingredients that normally require repeated applications over a course of weeks.It should be noted however, that some of these preparations contain steroidal ingredients so any existing illnesses should be discussed with the pharmacist before purchasing such a product to prevent any contra-indications. Steroids are also best avoided in the very young and in those who are pregnant or breast-feeding also.
As well as treating the fungal infection, it is important to prevent the spread of the condition to the other foot or to others. Make sure that towels are not shared, socks are changed frequently to prevent the build-up of moisture on the feet and try and wear footwear that allows the feet to breathe and remain cool.
Wash the feet at least once a day, preferably more and ensure that the whole foot is dried properly, especially between the toes where moisture and heat can accumulate.If symptoms persist after treatment, visit your GP who may recommend the use of an oral anti-fungal preparation.
Many complementary therapies may prove useful in the treatment of athlete's foot, and the use of essential oils can help to eliminate or reduce the problem. Again, it is important to make sure that these preparations can be used in the presence of certain illness, conditions or if taking any medications.
Preventing Athlete's Foot
Athlete's foot can be prevented in many people by carrying out a few basic hygiene rules.Try changing the type of shoe worn each day to allow feet to breathe. If you suffer from hot or sweaty feet, change socks often, sometimes two or three times a day to help keep feet fresh.Never share shoes, socks, nail polish or towels, and try and find time each day to walk in bare feet to allow perspiration to evaporate before fungus can grow.Keep nails short and tidy, perhaps treating yourself to regular visits to a beauty therapist for a pedicure treatment.
Athlete's foot can be a very irritating problem for the sufferer and will normally persist until it is treated. Prevention is always better than cure and by following some fundamental rules of hygiene, fungal infections should be either eliminated altogether, or reduced in frequency and severity.
You might also like...